Some of you might have been wondering what all the commotion at the Molson Amphitheatre was the other night...
No, god didn't throw up rainbow coloured poster paint and glitter. It was the annual True Colours concert EXTRAVAGANZA. For those of you (straight people) who are not sure what "true colours" is about let me break it down for you. It's a concert event that is presented by non other than the girl who just wants to have fun, Miss Cindy fucking Lauper! She gathers some of the finest and not so finest acts of the gay-friendly community, hops on a bus and travels North America promoting equality for gay, lesbian, bisexual and transgender (GLBT).
This year some of the acts included, of course, the always beautiful Cindy Lauper, as well as the B-52's, Rosie O'Donnell, Indigo Girls, the Cliks, and hosted by the ultra flaming Carson Kressley. Yeah, I know, the line up was kinda weak. Kinda really weak! I think Toronto got shafted when it came to performers, when artist listed to play on other tour dates included Tegan & MF'in Sara, Margaret Cho, Regina Spektor and Deborah Cox. The fact that most of the good acts didn't want to venture across the border (not even the Canadian ones **cough cough** T & S **cough cough**) didn't get me down though, I still had the Cliks, and miss Lauper.
The show began with an amazing, testosterone filled performance by the Cliks. "Oh Yeah Oh Yeah" the transgender lead pop punk group started on a high note and kept the energy up. Resembling the sound of The Distillers, the Cliks are able to combine angst ridden poetry with a pop punk melody that makes their music super fucking catchy and easy to relate/sing along to. As always, appealing to the queens in the crowd, they mash up covers of Justin Timberlake's "Cry Me a River" with Beyonce's "Irreplaceable", which I have to say is fucking brilliant!!! Thanks ladies... I mean gentlemen.... I mean ladies and gentleman... well you know what I mean...
Moving on, the next to perform were the timeless Indigo Girls. A staple in the lezzie community, the girls brought their Birkenstocks, plaid and of course another love filled performance. Not much to say here but it
was
the Indigo Girls.
Following them were The B-52's. Yeah, they are still around. And you may ask yourself "didn't they only have one hit?"... Yes, remember the Love Shack??? The even sadder thing is that the band with only one hit under their belt was on the stage the longest!!! Yes, people, I am serious. What should have been a 20ish minute set went on for what seems like forever. Not to mention that every song played seemed to be a variation the that solid gold hit about a shack that we all love so much. Whomp whomp.. If it's any consolation the B's look good for about 60. Teehee!
Finally, what all you queens have been waiting for, the incomparable Miss Cindy Lauper. Of course, I cannot say a bad word about her or her performance. It was fantastic!! From the stage set up and props, to her outfits and her band, even the mediocre backup vocals from Rosie O'Donnell. Cindy's vocals were a little off, but she made up for it when she covered Celine Dion's "I Drove All Night". At the end of the concert Cindy had all the performers come on stage join hands and voices to sing "True Colours". This was, hands down, the best part of the night as well as the gayest!! Yes I said it.. cuz I can!!!
All in all I had an amazing time, despite the line up. I would recommend that anyone, gay or straight, young or old, should check out what us gay's have to offer. You might be surprised that it's not all rainbow flags, bad wigs and leather!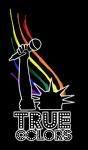 It's Chris James Bitch! S my D.