Warped Tour, 2008, ended up being outside on the Flats at Arrow Hall, and what a shitty venue that was. It was almost as bad as the year they held it in the Skydome, maybe even worse after the rain hit. Aside from the blistering heat sans shade and the downpour, which really put a damper on the day (heh), the Toronto part of the tour wasn't a complete disaster. Unfortunately though the beer was all the way inside, on another planet than the music, and you had to go through the most hectic process in order to get a drink... so much for getting wasted at warped tour this year. Whomp whomp!
Just like every other year it was impossible to catch every band that you wanted to see, and they seemed to have a hard time organizing the bands and genres that were playing at the same time... for instance Reel Big Fish were performing at the same time as The Johnstones... the only two well-known ska bands on the Toronto tour, which was just dumb. Against Me! also had that same 3:00pm slot, which really urked me considering I was under obligation to see the Johnstones and missed them, one of my all-time favourite bands. Whatever bitches. Looking back on the list of bands that played I only ended up seeing about 40% of the ones that I was looking forward to... never go to Warped with somebody who isn't into the same type of music as you... I ended up having to stand through Norma Jean, Angels and Airwaves, Story of the Year, Anberlin and Evergreen Terrace (all barf) and missing bands like the Bouncing Souls, Jack's Mannequin (shhh... I know this should be considered barf but whatever, we all have our guilty pleasures), Set Your Goals, St. Alvia Cartel, The Audition and The Bronx... all of which I'm super sad on. Oh well, that's what friends are for right!?!
We started off the day by watching the local London ska band Mean Tangerine, and for my first time witnessing them live I was thoroughly impressed. Good energy, fun to watch, and with a little help on stage from Jarek and Ryan of the Johnstones for their last song they really started the day off on the right track. Pumped up from that performance we headed over to one of the larger stages and were just in time for The Academy Is... I've seen them before but was never really blown away by their stage performance, but this time they seemed to have a lot more energy and the lead singer was doing such an amazing job that I could barely take my eyes off of them. They sounded better than ever and really got the crowd going. Next was a fucking wicked new group that I had never heard of before the tour, called 3OH!3. They are a rap/dance/thrash duo with more spunk on stage than I have ever seen. Everything about them was super bad ass, from the lyrics to the grinding dance moves to the way they had all these punk kids at warped dancing up a storm... amazing. Definitely my favourite part of the tour and the band most worth checking out if you haven't heard of them before (www.myspace.com/3oh3). Fuck anybody who criticized this tour for having too many different genres, without these guys it wouldn't have been half as good as it was. After that we caught the last few songs from Cobra Starship, my first time seeing them as well and to be honest I thought they would have had a lot more energy than they did. The lead singer talked way too much for such a short set and we ended up leaving that stage before they were over, bored bored bored.
After taking a short break from the sun inside and pounding back as many drinks as we could before the next band on our itinerary, we headed out to see The Johnstones. This was the only band I ended up seeing from start to finish, and I'm glad I did...even though I kind of sort of had to. These guys are never a disappointment, all decked out in diapers, bibs and pacifiers they definitely were a sight for sore eyes. Unfortunately the sound on the Union stage was shit, the microphones barely worked, the horns were too low and the drums too high... all in all the levels were just fucked. It wasn't the best performance I've seen from these boys but despite the fact that they were clearly exhausted and rushed they still put on a really good show. Again we booked it back to the beer (such a hassle) and pounded a few more then headed back out into the sun (by now everybody was incredibly sun burnt... which still hurts like a mother fucker btw) to see Gym Class Heroes. Amazing. I guess this Warped was a day of firsts for me, and for my first time seeing GCH they completely blew whatever high hopes I had for them right out of the water and did ten times better. Without a lot of time in each band's set they ended up mixing a bunch of songs together so that the crowd got to hear all of their favourites, and it was fucking wicked. I'd also like to note that Travis announced that he has been clean for five months now, and it was pretty cool of him to mention it on stage in front of mostly kids... kudos Trav. Hilariously enough he also gave a shout out to Lamb of God and covered the song Laid to Rest, screaming and all. It was quite awesome! Next we walked over to see Every Time I Die, but sadly three songs in the rain started... and boy did it rain. The downpour lasted for a couple hours at least, and caused me to miss Protest the Hero (FUCK MOTHER FUCKER COCK SUCKER CUNT FUCK) which I was extremely upset about. I know without even seeing them that they put on an amazing show...they always do.
The downpour finally let up just in time for us to see Pennywise, who rocked it hard and made me forget that I was completely drenched for at least a few songs. They played all the favourites, taking me back to high school... and not in a bad way. The last act worth noting (I'm not going to judge the bands I watched who I mentioned above... since I'm not a fan to begin with it wouldn't be quite fair to rag on them as much as I'd like to...) was Katy Perry.... all I can say is Zzzzzzzzzzzzzz.... She did her set in acoustic (as far as I know anyway, I actually missed the first half of her set) and it was not something to be paired with the rain and the sun in order to keep everybody pumped up... her single is twenty times better the way it is on the radio, and considering she was playing at Warped Tour I think it was in very poor choice to go the acoustic route. Oh well! To each their own I guess.
And that was that. If you didn't love all the bands playing you would have hated this day more than life itself... luckily the lineup was decent in my mind and made up for the sun and the rain, but that's just me. I'm just glad they didn't hold it in Barrie again, where there would have been absolutely no escape from either. Next time they really should have the drinking area front and center though... I think that would have helped A LOT.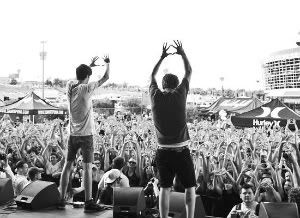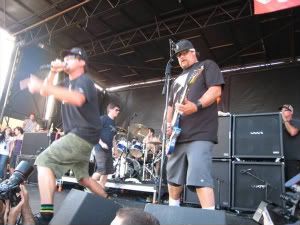 I'm Sarah. I do what I want.