Wyoming-based pop punkers rocked the Horseshoe Tavern last Friday with their Ramones-styled melodies and presence, and if you missed it then I would like to extend my apologies because it was incredible!
Straight forward, simple, and super cheesy may not sound like the best ingredients for a memorable show, but Teenage Bottlerocket prove that it can be one of the best recipes in the book.
At first glance the crowd seemed hesitant, standing so far back from the stage that it was at is they were waiting for a plane to land in the middle of the dance floor, but by the second song TB had charmed everybody with their energy and pizazz and they flocked to the stage faster than you could say "rock me Amadeus"!
From then on it was a constant party, not one person was standing still. Feet were moving and heads were bopping all over the place, smiles painted on all of our lips.
They played all the songs everybody seemed to know and love, and more. Their stage presence was mesmerizing, the energy never lacking. The time seemed to pass in seconds, and all too soon it was over.
For fans of anybody who loves
good music
the Ramones
nerdy pop punk
dancing
check out this band next time they're in your city, I guarantee you'll have a good time!
www.myspace.com/teenagebottlerocket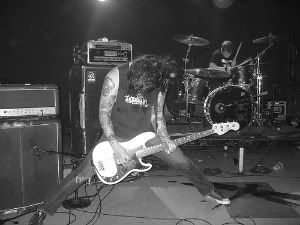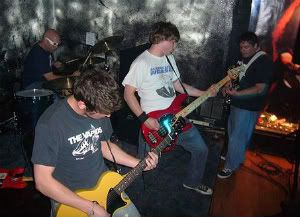 I'm Sarah. I do what I want.