Well, it's Friday... I'm a week late and I'm super lazy, so I'm not even going to bother putting much effort into reviewing events that most people have already forgotten about, and all the rest didn't even know/care about to begin with...
Wakestock.
Who even cares anymore?
This year it was down to one stage instead of two (I can't remember if there were two still last year) and the bands were not nearly as stacked as they have been in the past... The worst part is that between each set there's like 40 minutes of quiet time where you can go watch wakeboarding or peruse the tents, but that gets boring after the first intermission... especially if you're only there for the music. Don't get me wrong, wakeboarding is pretty sick, but not "3 days worth of watching" sick.
Anyway... I missed Friday but we got there Saturday early afternoon and walked in to the sounds of Dodger, a punk band that has been around ever since I can remember... Who, by the way, still sound the same as they did when I was back in high school watching them play in Port Hope. Needless to say they haven't gone anywhere and probably won't... but way to keep trying boys!
Then it started to rain. And by rain I mean downPOUR. Do we all remember two weeks ago at Warped tour? Well just my luck, this time it was WORSE! Probably the most exciting (and terrifying) part of the entire weekend was the fact that it also started to thunder storm directly over the island.. the winds picked up taking huge branches off of all the trees... the ground turned into mud instantly... and lightening struck a tree leaving 5 people with minor injuries caused by the shock of the lightening hitting the ground. Needless to say it was the scariest moment of my life, as getting hit by lightening is probably my greatest fear and storms scare the shit out of me.
Finally about an hour later the rains let up and the sun came out, and so did Rebel Emergency... the worst band I've ever seen before, and that's saying a LOT. I'm not even sure how to categorize them, since half their set was covers (U2, Sublime) and really shitty ones at that. Their own stuff was trying to be ska/pop/punk as far as I could tell through the suck. Honestly watching this band on stage made me unhappier than any rain or storm ever could... the singer was horrible and stiff making for an uncomfortable stage presence, and at the end he decided to put a surf board out into the crowd and attempt to stand on it for 2 seconds before getting back onto the stage and ending the set... L-A-M-E!!! I can't even continue writing about them, I'm getting mad just thinking about it.
Next was Classified, and he was DOPE! And he sang about dope. A lot. Nevertheless he definitely made me forget my worries, forget all my cares and actually enjoy myself even though I was drenched to the bone and in the worst mood ever after R.E.
Unfortunately after two weeks in a row of standing in the pouring rain I had no energy left in me to trek around through the mud for the rest of the day to see Hot Water Music, RZA and JZA... so we left after Classified and got drunk in dry clothes at home instead.
Sunday was a pretty boring day on the island, we got there a little bit later, just in time to see Lights who weren't much to watch but definitely good background music to hear while having a few drinks and watching some Wakeboarding. The mud was still covering the ground from Saturday but they had put tons of boards down so that it was somewhat bearable. We stayed until about halfway through Dragonette, who had really bad stories and a worse stage presence.. and nobody cared enough about Metric to stay any longer so that was that for Wakestock. Boo.
Sunday night was far from boring however. Mother Fucking PROPAGANDHI bitches! Finally they are back, and with a new album in the works!
We missed the first band (whoever that was) and Hostage Life... who I love, but they play in Toronto all the time and the Edge ruined them a little bit for me by playing their single ever 2 seconds... I got sick of it and I don't even listen to the radio on a regular basis.
None of that even matters.. it was all about Propagandhi and they totally delivered. Surprisingly they played a lot of old shit, a few from Potemkin City Limits, and a couple brand new tracks that sounded fucking wicked! There was no way Prop could let anybody down at this show, one of the best I've been to in a while. And Chris had an amazing moustache to top it all off... haha!
Welcome back Propagandhi!!!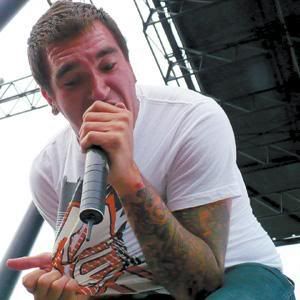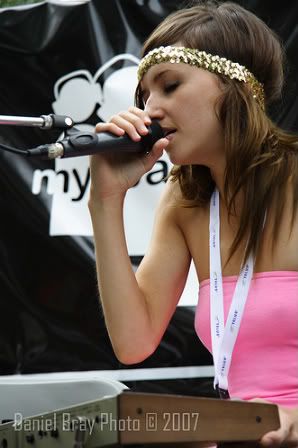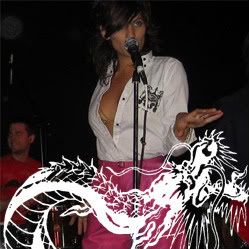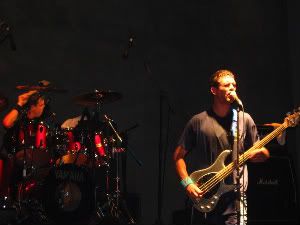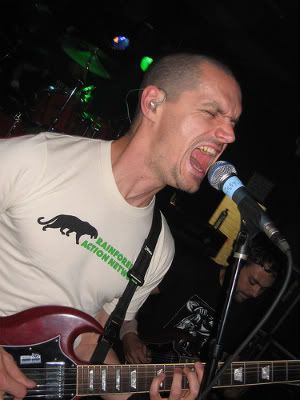 I'm Sarah. I do what I want.