Babyshambles drummer Adam Ficek releases the second single from is solo project Roses Kings Castles today (September 8th). "Entroubled" is a folksy pop tune about a girl who causes trouble. A melodious acoustic, a xylaphone, some distorted electric guitar, and Adam's lovely voice.
Check out
www.myspace.com/roseskingscastles
or
www.roseskingscastles.com
to hear more and to get your free(!) copy. "Entroubled," as well as his first single, "Sparkling Bootz" are also available on 7" vinyl. The self-titled album drops September 22nd. You can get it here:
http://indiestore.7digital.com/roseskingscastles/tracks
Show some support and maybe Adam'll cross the pond for a few shows!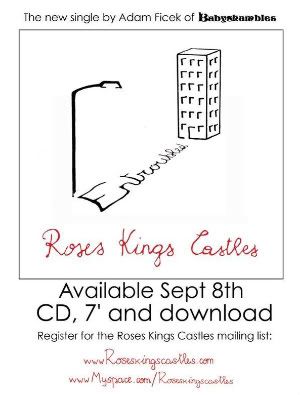 Sent in by Lindsey Cull.