Does it make anybody else sick that Nickelback took home half the awards this year, yet again.. I find that even more disgusting than Chad Kroeger's attempt at straightening his hair for the occasion.
Come on Canada, do you really want that greasy redneck and his cock rock music representing us year after year? Do you really think that THAT is the best music we have here? No wonder the rest of the world sees Canadians the way they do... I mean, who the hell is picking these winners, the Canadian Cougar Association? (And I'm not referring to the cats.)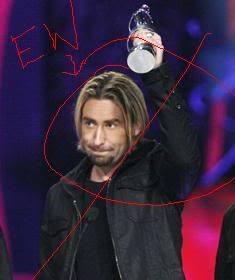 Sorry, I don't usually even watch the Juno's but I happened to catch it this year and I easily remembered why I never watch it... because bands like Nickelback always take home the top prizes. Blerg! I'm insulted on behalf of all the real musicians out there.. ANYWAY... there were actually some pretty okay moments of this years show though and the top three are as follows:
1. Sam Roberts won Artist of the Year. The look on Sam Roberts face when he won was absolutely wonderful; he was actually shocked that his name was called and was visibly dazed walking to the stage. Immediately he pointed out that the entire band was Sam Roberts, and without them there would be no Sam Roberts, and finished by praising the artists he was up against considering it was a stacked list of nominees including Bryan Adams. Although not the biggest fan I was thrilled to see them take this award home, and it warmed my heart that you could actually see it in their faces that this meant the world to them, and unlike stupid Nickelback they didn't have the air of arrogance like they deserved it.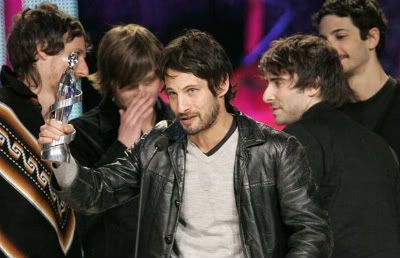 2. Bryan Adams/Kathleen Edwards performing Walk On By. Utterly amazing. With Edwards on violin, Adams on guitar and the duo sharing one mic, the chemistry between the two was undeniable and added a lot to the performance. She even managed to crack Bryan Adams up mid-lyric and he flawlessly managed to pull himself together within seconds, which made for a very heartwarming and beautiful performance.
3. City & Colour featuring Gord Downie. Those who know me personally know that I actually quite despise both those artists, but let me tell you I was literally BLOWN AWAY by their performance. So much that I'm posting a video of it below because everybody needs to see/hear it.