This is one of the only times you'll ever hear me say these words.... Fuck baseball. Because of the stupid extra inning game against those Tampa Bay ASSHOLES I practically missed the first band playing at Sneaks last night, who happen to be the only band from Toronto at the show and they're fucking awesome. They were (and still are!)
The Job
.
I stumbled in with a few songs left and from what I heard they were super fucking tight and had wicked stage presence. I'm really kicking myself for not getting there sooner, and of course we didn't win, sonofabitch... but this isn't a
baseball blog
so after advising everybody to check out
The Job
's
myspace
I'll move on to the next band who played.
Mother fucking
Kiss Kiss
yo. To be honest I hadn't really heard of this band before I saw they were playing with FP but even after listening to their myspace I was a huge fan. Opening to an unfairly spacious venue(surprising considering the bands)
Kiss Kiss
immediately had the small crowd captivated, and if you thought they sounded good recorded you need to hear them when they're in their element..LIVE! I swear in the span of one song the crowd tripled. They were riveting, both to listen to and to watch, putting the audience in a surreal-like state, and according to my drunken notes it "made me want to wreck things"... whatever that means... and I can only say that it was definitely meant in the best possible way, the fun sort of smashing because what you're listening to is too fucking good. You all know what I'm talking about... or maybe I just have problems... regardless I actually found their performance unbelievable. Theatrical and totally confusing, with Saves the Day sounding gorgeous vocals and a violinist who played a major part in setting this band apart and blowing me away. She kept the melody throughout the entire set, making sense out of complete nonsense. While they were playing I felt like I was on shrooms and the only thing keeping me from losing myself completely was the daunting, grounded sound of the violin. If you have never heard of them before, or were unfortunate enough to miss the show last night you neeeeeeeeeeeed to check them out on their
myspace
.
I have a confession. I haven't stopped listening to
Fake Problems
since they walked off the stage last night. With sadly fading hopes of reliving the show last night over and over and over again I continued to listen to them on my way home from the show, then I put them on to lull me to sleep (more like to pass out to), as yet again as I got ready this morning, and again on the subway on my way to work, and again right now working. Every time a song plays that was part of their set I am taken back to last night, with the overwhelming urge to rip my panties off and throw them at the band onstage, which in real life would be the cubicle in front of me, and that would be awkward. Honestly though, I've always loved this band but I never knew the power they held when they played live in an intimate venue like Sneaky Dee's (perfect for the show).. it was almost like the Beatles effect, I actually wanted to take off all my clothes they were so good, and I am totally not like that usually... well except for that one time...kidding.
Right away it was better than I ever imagined, and I didn't have low expectations for this band by any means. There was so much energy in the room the second they hit the first note, the crowd went wild and you could feel the floor shaking under your feet. With an array of instruments from maraca's?, a trumpet, keyboards, a tambourine, extra drums including, (if I can recall correctly...maybe I shouldn't get wasted and try to review shows) a bongo? A cowbell? And they were apparently one member short, which would have been impossible to believe had they not said it themselves. Their performance was in your face, a swift kick in the balls to bring you back to life after Kiss Kiss' reality-defying production, and let's just say these two bands complimented the shit out of each and I don't think I ever want to see them play with anybody else, although that's inevitable.
Fake Problems
were loud, they were obnoxious, and they did it so well that I felt like a sexually frustrated teenager again and seeing them was the only thing hitting that g-spot. The expressions on each members' face while playing held the ability to enter the audience into the realm of the band, and it felt like you were playing along with them, which was a pretty fucking intense feeling. And the singer was nothing like I had pictured him, which I loved. The voice he emitted was so unexpected, quite a pleasant surprise, and it sounded even better than their recordings. Not only were they breathtaking to listen to but they were just as breathtaking to watch. The strength of his vocals matched with his soft confidence made him a constant focal point. The trumpet player was very animated and was another eye-catcher... to be honest it was hard to take your eyes off any one member of the band because they were so involved in what they were doing, and having such a good time doing it. They even had my friends who had never been huge fans of their genre whatsoever shitting their pants at how amazing they were.
Although every song was epic in it's own, and I wish they could play everything they've ever written every show, the songs that really stuck out for them last night started off with "My First Million" which was one of the biggest crowd pleasers and had everybody cheering and singing along. The sing-a-long continued with "How Far Our Bodies Go" which was a personal favourite and actually made me wish I could freeze time and live in that song performance alone for the rest of my life. The drum solo from the "other" drummer in "Rumble In The Jungle" was totally kickass, and the build up in "HeartBPM" left nobody disappointed when they delivered the legendary last chorus..
"When you're young (There's nothing really left to say,)
When you're dumb
When you're drunk as hell (My soul is stuck on the interstate.)
And in love
When you're sad. (When I finally get around to coming home,)
When you're no one
Pretend you're something (I long forgotten the area code.)
More than you are"
..and playing "Astronaut" as their encore was the perfect tune to leave everybody wanting more.
I know I say this a lot, but I am 110% serious when I say that this was one of THE BEST shows I have
ever
been to.
CHECK THEM OUT.
Punknews.org Profile
(full album stream)
Myspace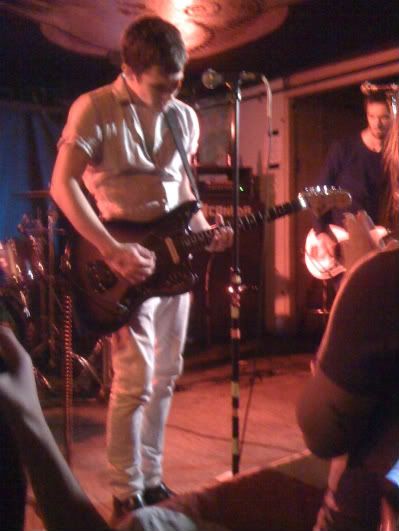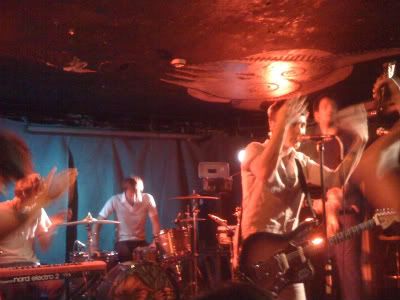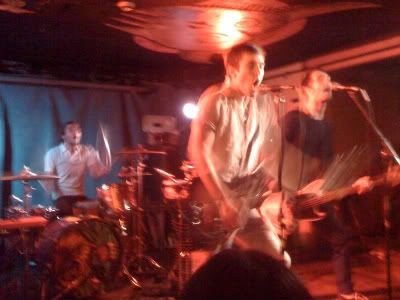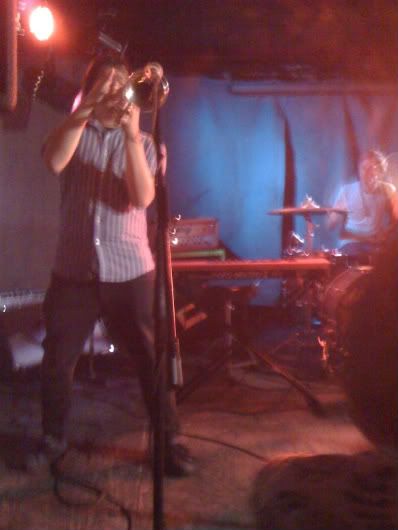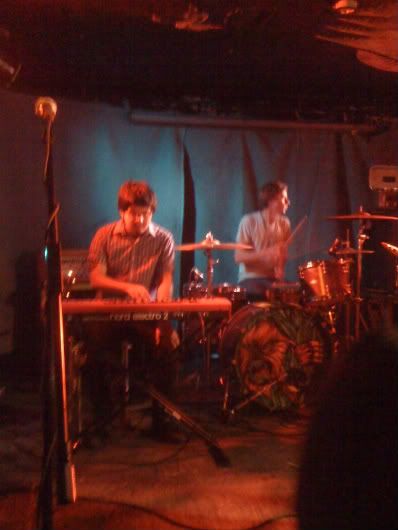 I'm Sarah. I do what I want.