This years Boxing Day was probably the best Boxing Day I've ever had, and no I'm not talking about shopping; the only thing I bought that day was a lot of liquor and it definitely was not part of the sales. Most of the fun had nothing to do with a show or this blog so I'm pretty much just bragging at this point, but the night started out on a high note when I met up with the super sexy guitar player of a new band called The Doe's straight out of Vancouver (shamelessly plugging my good friends band, sorry, but it's Festivus so consider it my gift to you and her…
www.myspace.com/thedoesband
) and another friend of mine for a punk show extravaganza at Lee's Palace.
Side Note: I have been heavily celebrating the season every waking hour pretty much since I left work on the 23rd so this night is already doomed to be very hazy. Not to mention the extra time I allotted for drinking before the show in order to avoid having to rip another new asshole to the opening band The Nightmares which I distinctly did not like the first time I saw them play with the same band (I'm an asshole but only when it's necessary, and I didn't see reason to knowingly have another bash fest, especially during the holidays.) Let's just say I was pretty Gonzo by the time I got there, and can't really recall the band who was playing as I walked in except that the singer/guitar (or bass maybe) player had blue hair and looked about my dad's age, and I believe I've seen him around The Bovine etc… and they weren't half bad, I remember dancing around and enjoying myself. I took a couple pictures, but fucked if I can remember enough details to review them without having taken any notes. So suck it.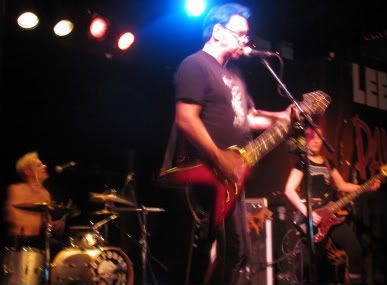 I did, however, take many sightly nonsense notes on
The Stiff Wires
who I had fallen in love with at the Misfits disaster a few months back and was excited to see again. Let's see how much sense I can get out of them. My head is still recovering from this week and the tall can in hand as I write doesn't help much, so bare with me… or is it bear with me? *shakes head*
I'm not sure if the boys in the band recognized me at the side of the stage, or if it was the camera flashing in their direction, or maybe my being really really ridiculously good-looking (kidding!!) but it seemed as though they spotted me looming inconspicuously aka drunkenly in the corner with judgmental eyes set upon them and it made them nervously glance over every few songs at me. I can't blame them, after sending them the first review I wrote that was filled with unthwarted negativity towards the other bands they played with I'd be scared too. No need though, just like last time I really enjoyed their performance and don't have many crushing words to say about it, aside from calling out the singer/bass player for his one dangling feather(like) earring that I hope to Oprah he was wearing in order to make fun of the Peak Season style. The entire show I was trying to peg the band members' ages.. they look young but astoundingly nail the old school punk sound of bands before their time, and splashing it with the same style skate punk they dawned on me as what could be this generations next NoFx. Their on stage mannerisms were goofy enough to inspire Fat Mike and yet again I heard douses of Matt Freeman's bass in their songs. They have undeniable talent and a lot of years ahead of them to perfect it if they stick with it. Their set was torn between the more old school sounding songs that you'll find on their
Myspace
and the skate punk type songs I heard the first night I saw them, and I enjoyed each side of the spectrum. All 3 frontmen sang, each with fairly different vocals from the other and it added some extra bounce to the performance, jumping back and forth between each singer making the stage appear fuller than it really was. The longer they played the less coherent I got, but near the end I felt very full of holiday cheer and the spirit radiating off the stage was quite to blame. Unfortunately since it was Boxing Day there weren't nearly enough people out at the show to appreciate the band the way they deserved to be. As much as I loved them at the Misfits show I could tell the band was more in their element this time around, maybe with less pressure than the last time playing with legends and without restrictions of an opening act… these guys are meant for the spotlight.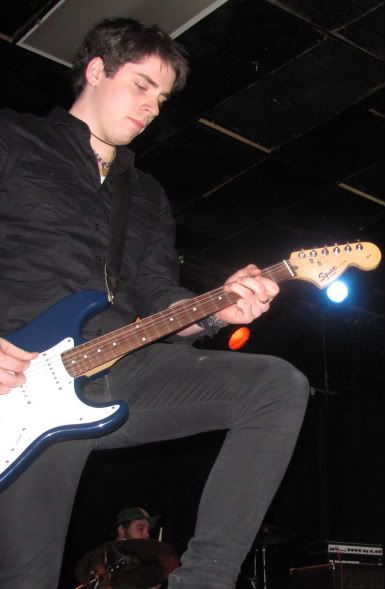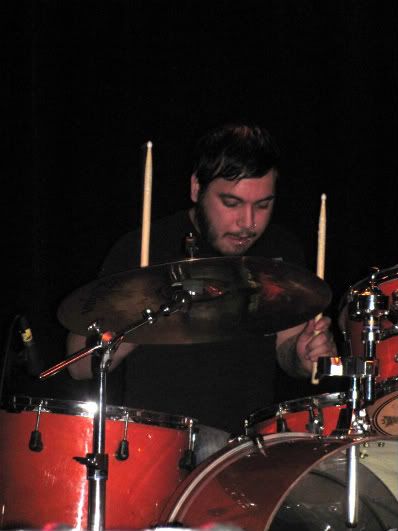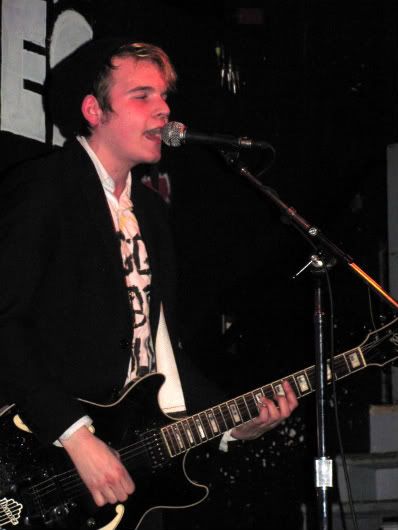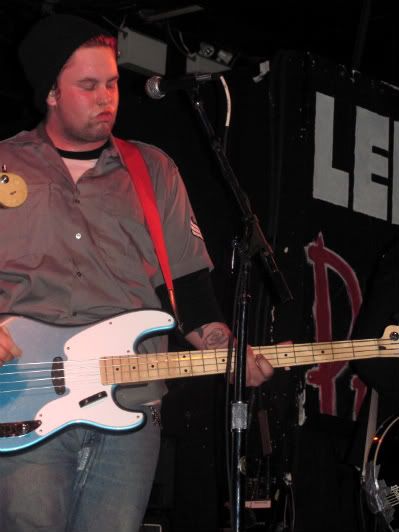 I'm Sarah. I do what I want.