When I first entered the MOD club last night, I had a pretty good idea as to what I was about to witness. Knowing that
Sights & Sounds
as well as
Moneen
were about to take the stage, I knew I was in for one hell of a rock show! But when the first band stepped on stage and announced who they were, that was the point when I realized that this was going to be a night for the books, something I will be telling my kids about.
"How you doing Toronto, We are
The Reason
!"... at that second nothing else existed, but me and them. Throwing any expectation for the night out of my mind, I reverted back to my 15 year old fan girl mode with my heart all a flutter and panties all a moistened. This Hamilton 5 piece did not fail to deliver an emotion driven, melody packed performance. Only really being exposed to The Reason on their last release
Things Couldn't Be Better
, and not actually getting a chance to see a live performance before last night, I was given such a sweet unexpected surprise that at that I didn't want to end. The melodramatic lead vocals by Adam White that were superbly accented with layers of backup vocals provided by basically the rest of the band, whether they had a mic in front of them or not. At times hearing a slight resemblance to Kings of Leon as both bands display a high talent for stadium style vocals. I also have to tip my cap to Jeremy Widerman who was playing such parts as percussionist, rhythm guitar as well as playing the keys. In the midst of their set Widerman perched himself on his keyboard stand, started clapping in order to keep the crowds energy up. While doing this there was a moment where I totally expected him to take a spill, and if you are willing to risk taking a massive nose dive for the sake of music. I give you my blessing. All I have to say is The Reason gave me a reason (ha-ha I am soooo punny) to keep my eye out for their upcoming album entitled
Fools
, due out sometime in early 2010.
With only minimal set up time in between bands, I was actually more patient waiting than I have ever been, plus I didn't really want to end the already amazing night I was having. Next on stage was
Sights & Sounds
, and for those of you who are not yet familiar with these guys I suggest you do a little boning up. This progressive-experimental 4 piece have tapped into a sound that is almost all their own. With aggressive crunchy rhythm guitar laced over sustained feedback, and some of the deepest floor vibrating bass lines, it's no wonder it hurt so good to the point of soargasum. Sights & Sounds offered up some of the most ominous eerie yet powerful vocals that had me in almost a state of lust. Can I also mention that a band that can head bang 16th notes totally takes my heart. For those of you who know music terms, point made... for those of you who don't, its really fucking fast! What is left to say but Sights & Sounds have made another non listener a hardcore follower.
Finally, Pièce de résistance... a band that made me appreciate Canadian music almost 10 years ago. That's right kiddies,
Moneen
was about to take the stage and I couldn't be more giddy. Again in flashback mode I remembered that night at the Kool Haus when I was 15... That was my first encounter with this down to earth 4 piece from Brampton and I knew even then that Moneen would always have a soft spot in my heart. From the moment these guys hit the stage their energy was through the roof and intern so was every single boy and girl in that venue. With a career that spans roughly a decade, it's safe to say that these boys have their shit together. Not missing a single beat, note, or unrehearsed flying spin kicks! Although Moneen was there promoting their new album
The World I Want To Leave Behind
and rightfully playing a hand full of songs off that album including the title track "The World I Want To Leave Behind", "Great Escape", "The Way" and one of my personal favourites of the night "Believe". At which time they shared the stage with a few choice friends and some extra floor toms (drums) and created this overwhelming sense of warmth that seemed to bring the entire crowd closer. Not only did they play tracks off the most recent release but they also managed to touch on some pretty pivotal songs of their career, which included "Are We Really Happy With Who We Are Right Now", "Start angry....End Mad" and of course "The Passing Of America". If you happened to miss the show last night then you missed one of the most spontaneous, entertaining and possibly most enjoyable performances by a Canadian artist that I have seen in quite some time. After swapping instruments between members, Moneen decided to performing an unforgettable (best version) of "The Passing of America" they have ever done in Toronto. In the middle of the song Kenny decides to take previously mentioned floor toms into the crowd and play it, while standing on fans shoulders. Moving from the fans shoulders to the middle of the venue floor, and then on top of the bar Moneen made an already amazing night unforgettable. While Kenny was making his way around the MOD club playing percussion on anything that stood in his way including empty beer bottles and half full glasses of mixed drinks, the rest of Moneen was on stage still keeping the song going. By the time the entire band was back on the stage Kenny was playing the bass, Erik the bass player was on drums, Hippy was jumping between guitar and percussion and Steve the drummer was back and forth on keyboard and strumming someones guitar. All I can say as by the end of this song it was like I had experienced the second coming of Jesus (emphasis on cUming). Even after about a 12 minute version of "The Passing of America" Moneen was still more than willing to continue to please the fans and completed an encore. With a smile from ear to ear, I couldn't have asked for more. Congrats you boys of Moneen, you were able to just cement your soft spot in my heart, and sure you did the same for everyone who attended the show last night.
I just want to commend all the bands for putting on a hell of a show. From the moment The Reason took the stage, through Sights and Sounds head banging all the way to Moneen's epic performance of "The Passing of America" there was not an ounce of energy or charisma lost throughout the 3 hour performance. It's easy to see why these bands have such a following, and why they are able to sustain in the Canadian indie scene. All Hail Canadian indie rock!!!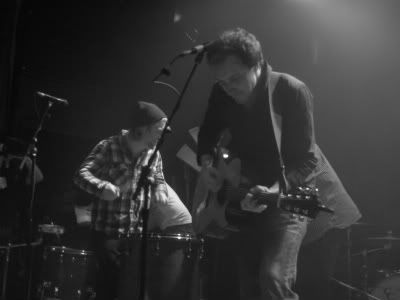 A BIG thank you goes out to Tanya and Cristina of Listen Harder Music for all their help last night. Stay tuned for MusicSheBlogged's FIRST EVER INTERVIEW with the one and only MO-fucking-NEEN!!!
It's Chris James Bitch.