SKINDRED ARE BACK!
With a Brand New Album:
Shark Bites and Dog Fights
Out on September 21st on Bieler Bros. Records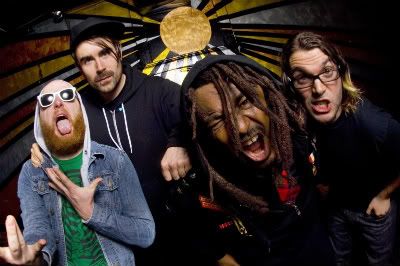 What exactly is it about Skindred that makes them so unique, so unto themselves both musically and spiritually? Is it their origins on the mean streets of Newport, South Wales? Is it their dancehall roots? Is it their punk, DIY ethic? Drum and bass combined with metallic riffing? Anyone who has experienced this band can go on for days trying to encapsulate what exactly it is about Skindred, but it is quite simply the music created by these 4 unlikely bandmates - Daniel Pugsley, Michael Fry, Arya Goggin and Benji Webbe – which blends a clash of cultures and ideas into a fusion of such musical grandeur, such magnificence that all bow or break in its wake.
Benji Webbe is not only one of the most fierce frontmen in all of rock, not only does he have the pipes that rock dreams are made of, but is also a guy who has his roots firmly in hand. You don't find him sitting behind the velvet rope at posh after-parties. You'll more likely find him speaking to a homeless person in an alley beside the venue, not preaching but connecting on a real, human level. Yes, he has taken in homeless to live with him, in his house with his family, not for a reality show, not for a news article but because it is who he is and what he is about. This spills over into everything he does. While others pretend and position themselves, Benji is the real deal. Part Shaman, part toastmaster, part devil, part angel.
Great things come from combustion and from galactic collisions, and Skindred's sound is such a thing. Who can tour with Gogol Bordello, Flogging Molly, Korn And Disturbed and destroy all worlds just as easily? SKINDRED.
If Radiohead are important, if Muse and Pendulum are celebrated then Skindred is divine! To see them live and come to any other conclusion is impossible. We don't need to spend two paragraphs telling you how wonderful the new CD is because it is Skindred and they are brilliant. You would do yourself a disservice, not as a journalist but as a music fan, not to devote the time needed to become acquainted with the music of this band. The guys have done their job, created what they create, it falls to us to let the world know…the Skindred sound has come to take over!
"Shark Bites And Dog Fights" is in-stores September 21st. Get it so you can claim this band as your own before the world does and leaves you behind. No longer Britain's best kept secret!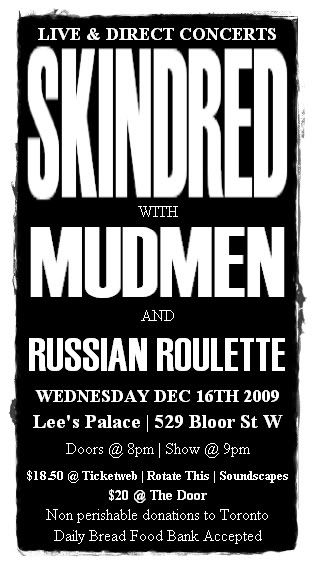 www.skindred.com
www.myspace.com/skindred