I always thought I was pretty defiant when it came to the connection between fashion and music. Never a fan of boys in girls jeans (do you have girls junk too?) and even going as far as having the url myspace.com/fashioncoresucks permanently on my profile for years and years back in the day (I have since deleted my personal account so don't bother looking for it). Yet, I realized how jaded I was as I laid eyes on hard rock band
Russian Roulette
on Wednesday night at Lee's Palace, with 3 members sporting matching wife beaters and chains (do your chains hang low, do they wobble to and fro), one member looking straight out of a heavy metal band, and the fifth a kind of 70's rock style minus the flare in the jeans, and semi-consciously wrote them off as a band I was going to enjoy. How rude of me. With only one song on their myspace that didn't really strike me as the type of music I would usually get into, I went into the show with what I thought was an open mind before realizing I'm one judgmental sonofabitch. Their bare-boned, stripped down appearance only left more room for the appreciation of their flawless (to my untrained ears anyway) tight performance featuring A+ choreography*, a set in which every element actually made me blink hard twice to make sure I wasn't imagining things. Each member was "givin'er"*, the heavy bass and guitars over the fast and furious drumming complimented the wide range of the singer whose scream could go on for days. He could have been mistaken for an actor on stage dramatically mimicking the emotions from each song for the audience and you know what, it was fucking cool to see. I found their set just got better and better as they played, and the guitarist sans beater ended up stealing the whole show by the end of it, rocking out in his own melodramatic way that demanded attention with his spectacular fingers, and at the risk of sounding like a huge perv, (and this having nothing to do with the music), I kept thinking I saw the outline of his penis down the leg of his jeans, although at closer inspection I'm sure it was just something in his pocket… HA HA! Not that it had any impact on why I was enthralled by him *cough*. Regardless, they ended their set with a cover of Corey Hart's "Sunglasses at Night" and it was amazing, and I vow never to consciously or subconsciously judge another band by their appearance or lack thereof again. Amen.
(* quotes from Brandon! Thanks dude!)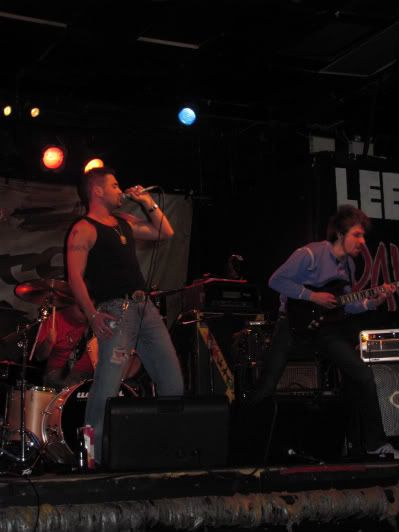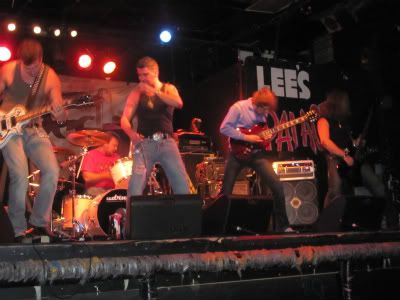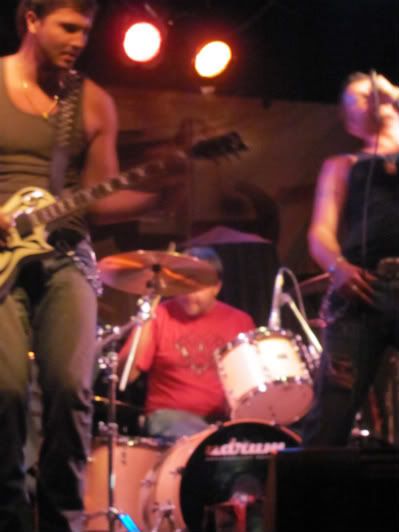 Celtic rock veterans
Mudmen
were next, and the second the bag pipes sounded the crowd made a mad dash from back of the bar to the front of the stage, and the frenzy began. Decked out in kilts and the whole get up the two bag pipers were definitely the key to this performance, making crazy faces at each camera pointed their way and putting on a show even when there were no pipes involved. The rest of the band was not to be overlooked though, with a bass player who could have been The Dude from The Big Lebowski (see pictures) and a drummer with crazy eyes and crazy stamina, both of which were the backbone to the band carrying the energy of the melodies as the guitarist danced around while caressing my ear drums with each note he picked, even picking up a banjo for a song and killing it. The singer was my favourite, although only playing guitar for a portion of the set he was still an ambitious frontman without an instrument in hand, with a voice that complimented the music to perfection and the energy to match. Never would I have imagined that this type of music would spawn a more intense pit than any hardcore punk rock show I've seen, even trumping Pennywise when I almost died between four huge men slamming into me. Luckily the guys around me spotted the danger in where I was standing, stubbornly refusing to move while trying to hold the camera without dropping it with each hit I took from the always-extending pit, and they took it upon themselves to stand beside me and guard me from such disasters. A big thank you whoever you were! Their performance was enough to add them to the growing list of bookmarks on my computer for future listen, and gave me a new appreciation for their genre of music. As the smell of B.O. filled the air around me after their set finished I was hoping that they would come out for an encore which is completely out of character for a band who isn't even headlining, but alas their set was over with me replaying my favourite song of the night "Drink And Fight" over and over in my head.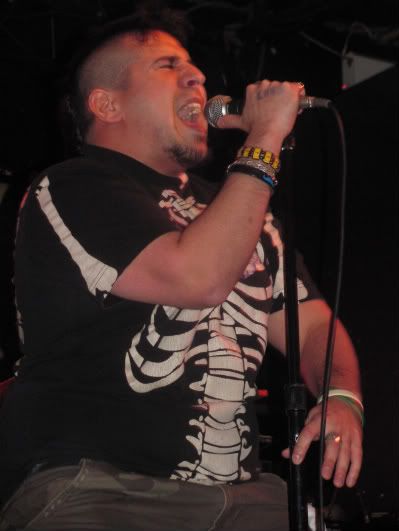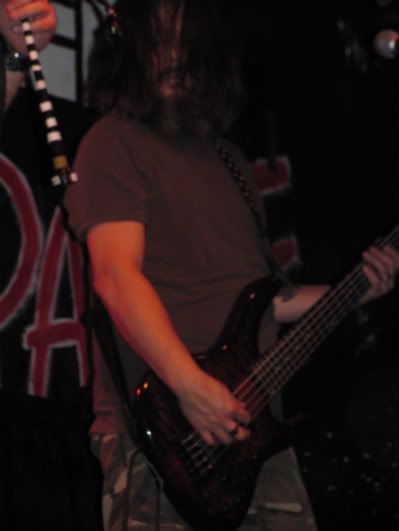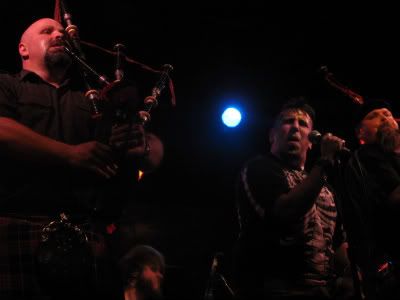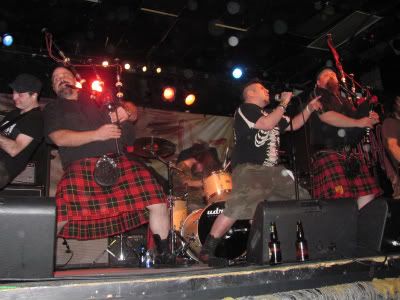 Sirens blared to mark the start of genre-defying
Skindred
, and the start of the most unbelievable, nothing-I've-ever-seen-before, incredible performance. I don't even know where to begin. As I try to put their genre to words I feel that every subgenre I come up with is a huge FAIL in fully describing the band. Reggae? Punk? Metal? Rock? Rap? Club? Electro? There was something from each one of these genres blended together into one mind blowing set. I am now going to dub it reggapunktelrokapubtro music. The star-studded look-alikes night continued with the guitarist looking a lot like a much much smaller and better looking version of comedian Brian Posehn (Sarah Silverman Program ETC) and he cracked me up, despite his serious talent. The bassist was superbadass solemnly driving the beat with his magic hands and the drummer was faster than a hungry cheetah chasing its prey. And the singer… The singer was amazing, charismatic to boot, creating a solid relationship with the crazy cult fans in the audience and even those not so hardcore, playing with some sort of electronic device that pumped out samples and recordings and pretty much anything they required to up their set… me being very electronically-retarded I have no idea what to call it. Their set was an intense enigma, taking the fans from mellow, peace loving reggae tones to angry, heavy, raging rock in a matter of seconds, and then back again. The crowd was going insane, the majority in the pit was shirtless and those who didn't choose to be were by the end, with just torn shreds remaining on their back. Sampling so many perfect songs throughout the set like the intro to AC/DC's "Back In Black", The Special's "A Message To You, Rudy", Lady Gaga's "Poker Face" (for a split second) and Yellowman's "Nobody Move, Nobody Get Hurt", this was definitely a performance for the books. I can't even continue to try to describe it for you as it is one that words will not do justice. Go see them for yourself.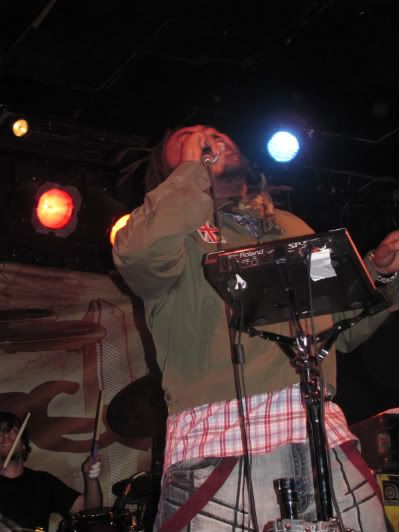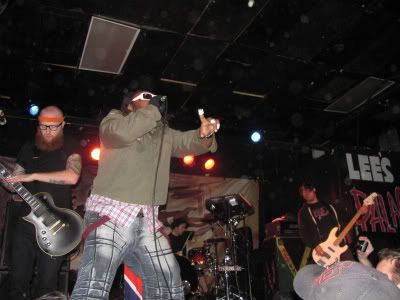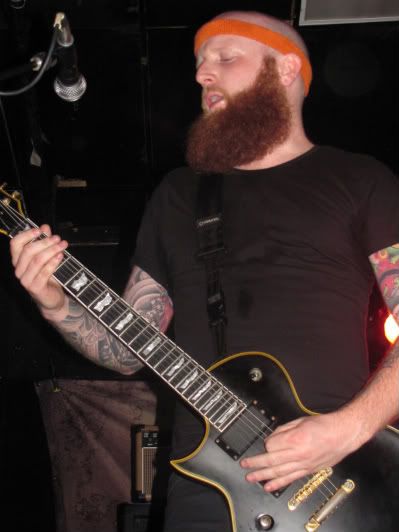 I'm Sarah, I do what I want.