Before I start I want to give a shout out to Patrick Pedraja, the brilliant boy behind Driving For Donors and his inspiring mission to help raise money and awareness, not to mention find donors, for blood marrow transplants and cancer research. Please check out
Driving For Donors HERE
and see how the
Take Action Tour
teamed up with them this year so YOU can make a difference too.
An unfortunate series of events leading up to the show (story of my life) left me flying solo for the
Take Action Tour
last night at the Phoenix. I admit, I got there late (if you consider 8:30pm "late") and sadly missed There For Tomorrow and A Rocket To The Moon, who thankfully I've seen before but shitty for me I really enjoyed and was looking forward to seeing again.
Word around the Phoenix was that both bands were wicked, and A Rocket To The Moon announced they will be recording a video soon for "Like We Used To" so keep an eye and ear out for that sometime this month.
At this point I have no idea what happened to Stereo Skyline on the bill but I was hoping to see them as well after
interviewing
them. Call The Cops were also MIA but I wasn't paying attention when they said why…. oops!
Making it in time for
Mayday Parade
, I decided against using the media pass and threw myself into the midst of the all ages area to experience the show like I haven't since high school (aka not in the drinking area getting wasted). I figured hey, if I'm alone, why not be alone in the middle of everybody.
The theme of the night was big hair and gingers, a combination that just screams Gingervitis… err I mean fun. The venue was packed, literally sold out, and everywhere I looked there were young slutty girls and boys in tight jeans and button ups, a look that plagued the stage as Mayday Parade performed. I learned something last night.. tight pants actually look good from a distance.
I had purchased Mayday Parade's latest album, Anywhere But Here, through Itunes sometime last week and never really got into it, but seeing them live proved to be a lot more exciting than the studio tracks. Each member impressively rocked hard, and each one kind of turned me on a wee bit by doing so. (I think standing in the middle of girly tweens really did a number to my mentality last night). In the middle the band split and the singer picked up an acoustic guitar and held the stage alone, playing a cute little number (which sounded exactly like "Baby Blue Eyes" by A Rocket To The Moon suspiciously enough…-Thanks Tyler!-) that made the girls around me scream uncontrollably, and all camera's shoot into the air to capture it.
I think I must have died and gone to pop punk heaven.
I started getting lost in the madness of preteen hormonal angst and my head started screaming "DANGER DANGER", insisting I check ID's before even looking at the guys around me. When the acoustic timbit was over the crowd erupted, I thought I had been swallowed into a black abyss as the floor engulfed me through pressing bodies. Before you knew it the band was back and the beautiful mess of swinging guitars and rocking bodies commenced.
I was enjoying myself until the singer caught me off guard by yelling "Let's get some crowd surfing going"
*LIFE SCREECHES TO A HALT*
Did he really just say that?
My entire 40 was almost lost on the floor in a fit of laughter.
Can't say I expected to hear that at this pop show.
Especially because mere seconds later he started a clap-a-long break… crowd surfing and clap-a-long's in one?
Funny right?
Needless to say they managed to draw me back into their performance with the track "Anywhere But Here" and the enticing transitions throughout the song that raised each hair on the back of my neck individually, softly….slowly…. mmmmm that's right just rub… no, lower… lower…lower…
Ummmm what show are we talking about again? Oh yeah, a song that I actually knew came next but I forget what it was now, haha so jokes, but as I bopped along I looked around at all the bare 15 year old skin I was seeing against my will… I mean whatever happened to jeans and band Tee's (not of the bands playing of course, AWKWARD)..wasn't that show attire at it's finest? I don't think I saw one band T-shirt not purchased at that show… anyway like you care.
Every girl was practically pissing herself over the catchy hooks and judging by the look on each band member's face they knew exactly what was going down, and obviously loved it, fully planning to take advantage of as many of them as possible in the back of their vans later on.
Annnnd scene.
Between sets I was dismayed to hear Ke$ha ($ for $tupid) and the crowd singing just as loudly to "Fireflies" by Owl City as they did for some of the live songs, and I think I realized exactly what kind of show I was at and beelined it for the bar.
On the way during my bathroom break, side note, I talked to a couple really sweet gals and just want to ponder the fact that every punk sub genre show I go to I meet some of the nicest people that seem to go out of their way to help me out in the clumsy struggle that is my life. Thank you to every one of you ever. I'm sorry I am never sober enough to remember your names, please write them in permanent marker on my arm next time.. maybe then…
It was quite, and I mean QUITE obvious when
We The Kings
hit the stage no matter which bar you were facing as the Ginger love hugged the entire venue in the death grip. I surrendered myself to the energy surrounding me, and having familiarized myself with both We The Kings albums thoroughly back when I could listen to music at work :(.. I SANG MY SAD LITTLE HEART OUT! The latest album, Smile, was a huge crowd pleaser and for the first time I experienced fear that a ground level venue's floor was going to cave in beneath us because of all the jumping and shaking. I felt like Hunter S. Thompson amidst the Hell's Angels, it was almost as dangerous too…. I could fully have ended up attempting to take home a minor… or the clap...
I lost interest when the band started talking a lot about some bobble head, but the singer was charismatic (even for a ging) and the fans ate that shit up.
Next they announced a "chill" song, followed by a "shake your booty" song… the difference unknown to me as both sounded of fairly equal pace. (I believe the songs were "Summer Love" and "The Story Of Your Life"… maybe?)
The rest of their set was a blur of a cover of The Killers "Mr. Brightside", which I did enjoy, some talk about gang signs (huh who are you guys?), and one of my fav oldies "Check Yes Juliet" that made me '17 Again' Zac Efron stylez (sorry).
Although I was having fun it was hard to keep my attention aimed at the stage at times, but luckily I ran into my ex ex ex boyfriends younger bro who I fucking hate (kidding) ADORE and his day walker friend who bought the best shirt ever. I did, however, tune back in long enough to hear one of the bands' OWN SONGS, "Heaven Can Wait", played over the speakers (a REMIX nonetheless) immediately after they left the stage.
Go fuck yourself whoever did that.
All in all though, great show!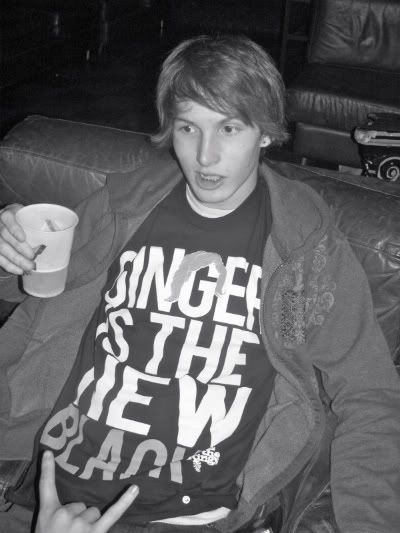 I took pictures in black & white so as to shield you from the gingivitis covering the stage, I'm kidding I love Aaron Hill. (is he even a ginger?) A friend and I proclaimed some day last month (already forgotten) as S.A.G. DAY…. Suck A Ginger Day. Blow until the fire's out baby! Sorry, sidetracked by ging's… check out the pictures
HERE
on the new
PICTURES PAGE
! No more clutter in the reviews when I go snap crazy on the camera. You're welcome!
I'm Sarah. I do what I want.