I'm too lazy to write a full review of the show, especially considering I ended up focusing my energy on drinking as opposed to critiquing that night (hey, I paid!)
But I did take some photos and when you see the band you won't miss a review, unless you're a straight man, suckers! (and as long as they are over 19? otherwise I take that back…crap) They pretty.
I did make a few key notes, they are this:
The singer had really nice boots.
The girl in the crowd wearing shortfalls (overall shorts) was far too drunk for 9:15pm and nearly took me out which was annoying and apparently noteworthy. At the end of the show I managed to snap a picture of her and her friend charging the stage to talk to the band… I was surprised she didn't fall off of the stage to be honest considering two prior spills. HA!
Uhh…. oh right, the band that was playing heh
They were actually really good. I saw them on Disband while channel flipping one day and they seriously caught my attention… but the two songs up on their myspace lack the 'umph' I saw in their Disband performance. So I went to this show and they killed it, despite the small turnout and the early set time. They had great stage presence, and although they seemed to be showing off a little bit it was nothing I couldn't get on board with. The singer had some Mick Jagger like charisma on stage and I mildly remember him setting off into the crowd and shaking hands with people. Cool?
Yeah that's all I got, suck it. Click on the picture below to see the rest snatches.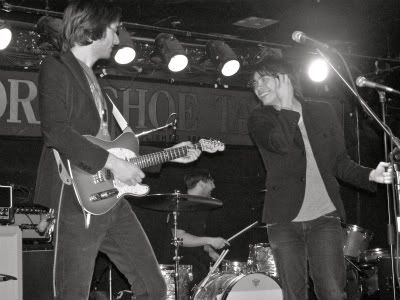 I'm Sarah. I do what I want.