Remember that song "Handlebars", well the
Flobots
are back, and their new single "White Flag Warrior" featuring Tim McIlrath is the best goddamn piece of lyrical bliss I have listened to lately.
God they have the groove of an angel, the groovy kind.
The first Flobot's album Fight With Tools was intoxicating, almost too overwhelming to listen to all at once with each lyric posing questions and each beat stomping my heart deeper into love with this instrumental heaven featuring strings, horns, and everything else you can imagine it takes to make something so holy.
With elements of hip hop, jazz, blues, rock, and funk and now adding a punk rock icon to the mix, The Flobots just blow away any standards for good music well out of the water. My toes are tingling for the full new album Survival Story, I could probably write a review on how amazing it is without even hearing it, it's just that obvious.
If you haven't heard The Flobots yet, WHAT THE FUCK IS YOUR PROBLEM dummy!? Comparable to Jurassic 5, and pretty much any hip hop icons to this day in one way or another, you're going to blow your load when you hear it.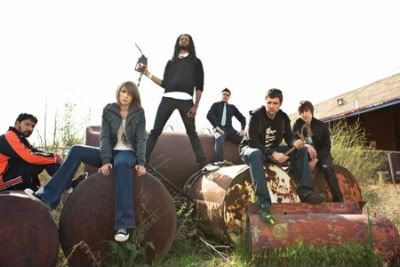 New album, Survival Story, hits stores March 16, 2010.
Check out their new track on their
myspace
.
I'm Sarah. I do what I want