Oh no, not again.
Listen #4, review #3.
This week is great! And time consuming...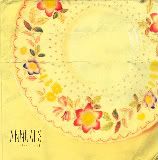 If you like uhh instruments of any sort check out
Annuals
and their
Sweet Sister
EP. The progressive-experimental-pop is quite brilliant when you listen closely, very intricate and done up tight with various musical contraptions to indulge you on a journey through the minds of the executioners. The music is constructed as subtle art, and alone could express what the words only prove. There are a couple different tracks that I would easily throw onto my mixed tape without much scrutiny.
Would they make yours?
Find out
here
.
I'm Sarah. I do what I want.