Do you know that feeling that you get when the warm spring sun finally starts to peak it's head through the snow clouds while the first cool-but-not-freezing breeze slices it's way through the frigid winter air… and you get that sense of everything looking up, a fresh start on the golden horizon? That (annually) new appreciation and zest for life and the anticipation for things to come, for your old problems to melt away with the dirty slush and leave you with a clear slate and green pastures. All of which is caused simply by the summer sun starting to shine it's way back onto your now-exposed skin, filling you with warm and bright feelings of joy.
What would happen if you could record the sound this feeling makes in the exact moment where your mood begins to shift?
The sound of the sun piercing through all the gloom and weight of the winter and filling you with its rays of love?
I feel like a mad scientist who has dedicated his (err her) life's work to recording this feeling through sound, and AT LAST have found the right equation… which reads a little something like this:
2x - 8 2x + 6y + 0.z = Portugal. The Man – American Ghetto.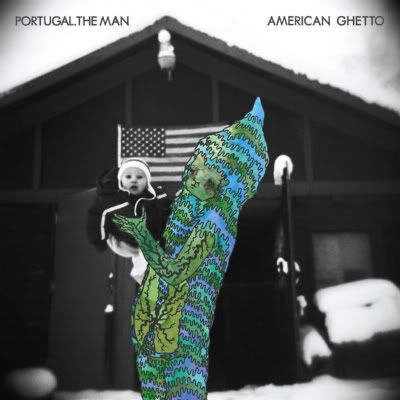 There have been very few albums in my listening life that can be compared to a feeling as unique and specific as this, and can give me the same rush of sheer bliss that the sun gives me on days like these.
The latest release by
Portugal. The Man
titled
American Ghetto
does exactly that.
Long ago in the early stages of this blog I remember noting this band somewhere or another, and flirted with the thought of doing a review… instead I listened to them for a few weeks before they got lost in the piles of handwritten lists of artists that caught my attention…. It must have been winter.
Although not necessarily the mood of each song, the way the album is written is uplifting in itself making for the perfect spring theme. There's something eerily familiar about each beat and the vocals throughout, but as much as I try the connection is lost on me to any other album or artist… instead it captures that level of comfort that you feel around your parents or your oldest of friends which gives you the ultimate sense of familiarity.
The spacey, groovy, 80's tripadelic/funkadelic sound resonates through each track, drawing a vast resemblance to the likes of Pinback and Gorillaz locked in an ecstasy induced love embrace.
Do yourself a favour and throw on a sweater or two, grab your sunglasses, roll a joint and find a spot to sit and chill in the sun while listening to this album and you will experience the mellow euphoria of my dreams.
Check out their album
here
.
I'm Sarah. I do what I want.