Jakob Dylan
has officially traded in his forlorn rock and roll outfit known as The Wallflowers for a cowboy hat and a spiffy taylored jacket, just like daddy.
Now, I can only imagine how frustrating it is for him to avoid his father's shadow while following in his career footsteps, constantly being compared to the legend himself.. but honestly, judging by his performance last night at The Phoenix in Toronto he's basically just asking for it.
He not only looked identical to the love of my life, but the older he gets and the raspier his voice becomes the more he even SOUNDS identical to Bob, and now that he's settled on a softer, folkier sound singing about god and war and other such Dylan-esque topics, he IS his father.
The only thing missing is the harmonica, and if he had whipped that out last night the raging lady boner I had for him would surely have released itself all over his harmonica-blowing mouth, with enough force to make it from the back near the bar over the 500+ people between me and the stage.
Seriously.
Uhh, anyway, for the first time in my recent life I was actually early for a show (a buh?), and despite having to wait for the first act (Mimicking Birds, who didn't blown me away last night but who I absolutely LOVE right now listening to their
myspace
) I didn't end up regretting my hour early arrival......... I mean, there was no way I would have risked missing Jakob or Neko.
NEKO CASE
, who - due to lack of proper research before the show - I assumed was actually going to be playing her own stuff as well as performing with JD. Needless to say it was probably the biggest letdown, ever, to learn that she wasn't. Yet the pain was somewhat subdued watching her gorgeous fiery mane (up, and down, and up and down) on stage, beautifully complimenting Jakob's voice through both background vocals and heartwarming duets with my man, errr JD.
Also on back up duty was Kelly Hogan. I don't have the slightest clue who she is, nor do I have the energy to look her up right now, but she had a pretty voice and that's all that matters in this review. *cough*.
The rest of Jakob's band, known as
Three Legs
, featured Paul Rigby on guitar (LOVE), pedal steel player John Rauhouse (LOVE LOVE), and bassist Barry Mirochnick (MEH... just kidding, LOVE LOVE LOVE) and they were all phenomenal musicians (you'd have to be to play with a Dylan I guess).
They performed practically every song off of J. Dylan's two albums, and even a couple of Wallflower's hits, "6th Avenue Heartache" and "Three Marlenas" over the span of an hour and a half set.
The energy was kept fairly low and levelled all night with few exceptions other than "Smile When You Call Me That" where Neko and Jakob duelled it out vocally in my favourite song of the night, and the two encores "Up On The Mountain" (my favourite song!) and "They've Trapped Us Boys" which contained more energy than the rest of the night combined.
It seemed all too soon it was over, and I was left wishing I could somehow replay the night, in real life, over and over consecutively so that it never had to end. It felt way too short somehow with only two different sets of performers, and I would have killed to see Neko Case perform any of her songs, particularly "Misfire" which I was wishin' and hopin' her and Jakob would sing together. Anything to prolong the night.
In a lot of ways I was expecting more from the show but I wasn't disappointed in how it turned out in the end, I mean, JAKOB DYLAN/NEKO CASE... and others... it doesn't get much better than that.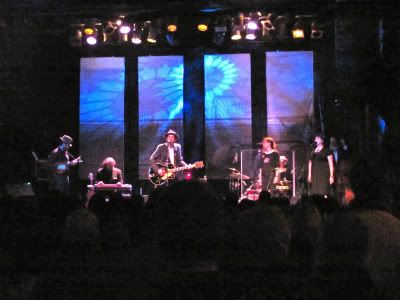 *I knew my hands were shaky when I was taking pictures (damn nerves) but I didn't realize how HORRIBLE most of them turned out until I put them on my computer... oops. So click on the link above to see all of the three that turned out (and by turned out I mean didn't... I'm as shitty at taking pictures as I am at taking hints. WHOMP) I'm pretty sure one of them, the best one above, wasn't even my doing. HA!*
I'm Sarah, and I dedicate this to YOU!
Don't you misfire to fill me up
With the desire to carry on.
Don't you know honey that love's a game.
It's always hit or miss, so take your aim.
Gotta hold on tight,
Shoot me out of sight.
Don't you misfire to fill me up
With the desire to carry on
Your gun is loaded and pointed my way
There's only one bullet so don't delay
Gotta time it right
Fire me through the night
Come on, take your shot
Fire me higher
Don't you miss this time
Please don't misfire.