Seriously why the Fuck am I up this early.
It's Good Friday, the first day of a 4 day weekend, which started off with some severe patio drinking from the second I left work yesterday and somehow ended with boxes of wine in a park and a really drunk walk home... I vaguely remember walking through the door, but blank on anything that happened after that (including some show setting up business emails that are actually quite legible and coherent... this is apparently what I do wasted. How lame!) What was I talking about? Oh yeah, it's Fucking early. I woke up this morning at 7AM. And this is BEFORE my alarm would have woken me up anyway because I forgot to turn it off.
What the H E double hockey sticks is up with that?
I'm sitting here, eating chicken bologna and crackers and getting crumbs all over my bed, listening to The D Bag Rag on repeat because that's apparently how hyper I am this early... so I figure while I'm being a complete loser I might as well spit that damn review out that I've been avoiding all week.
I don't know why I've been avoiding it though, that's the thing, the show was REALLY GOOD. Why wouldn't I want to relive it, and brag about it to everybody who missed it?
I already uploaded the pictures, I don't really have to do shit all except turn my notes into gold.
SO I am going to dub my one hitter "Sir Rumpelstiltskin" and get to spinning right about...................................................now.
Uhhhhhhh
I suddenly feel tired maybe I should just go back to sleeep....?
Nah, here it goes:
When I got there I had either missed Dead Country or they didn't actually play because I was standing outside talking to people, watching other concert goers enter the Mod Club only to reappear moments later and either smoke or leave. I chatted for so long that by the time I noticed people trickling back in and decided to follow suit I had completely lost the buzz I had going good and early and had pretty much missed the next band, Violent Soho, already.
Good job Sarah.
The few songs that I caught left me wondering if they would have been as good without all the hair.
What's that called again, hairography?
Yeah, that.
Without that they didn't have much but a tight set and good outfit coordination (which made me look like I was there specifically for them because I was also decked out in a plaid shirt and tight jeans... uh oh) but they did really rock out on stage and... wait... I don't know why it's sounding like I didn't like these guys, because I did, and they were great to watch, but they just didn't stand out to me or make me want to hear them later, and without the hair thrown into the mix it would probably have been a lot more awkward and a little less entertaining. But good! Confused? I am apparently.
Skipping ahead...
MARIACHI EL FUCKING BRONX!!!
Holy shit dude!
What started off with a glorious, beer in hand, grin from ear to ear entry from the lead singer of both the Bronx and it's Mariachi counterpart.. ended with a marriage proposal on stage and what was replaced by an almost impossibly BIGGER grin.
It was the experience of a lifetime.
The singer seemed to realize this the entire time he was performing, looking thrilled that people received their mariachi style sound that is SO completely different from the hardcore punk identity of The Bronx. That, or he was really high.
Decked out completely in head to toe Mexican get up. the band was almost unrecognizable if you were unaware of their schtick and it was awesome.
I love the fact that a band like that can share their roots with their hardcore fans and people will eat it up, in the best way, and expose themselves to something new just because of how much respect they have for the band to begin with.
You can tell the band was pleased as well, it showed on their faces and made the performance that much more important.
The mood only got better as a guy came on stage with his girlfriend, and thanks to the band who helped orchestrate it, purposed to her then and there.
I don't want to get all sappy and shit so I won't .. but I will say that it was cute.
Next up were Cancer Bats who replaced Japanther on the bill, and as disappointed as I was with the news at first (I've never seen Japanther but have seen Cancer Bats) they were actually so fucking good that I was thrilled they were there. They brought ten times the energy of the night already, and managed to even cheer me up after I had just learned The Refused were not actually coming back... and that's huge... I almost cried and went home when I heard... but am beyond glad that I didn't.
Their set was filled with real enthusiasm, no fake hair tricks, and had fans up on their boyfriends shoulders to watch it. I immediately developed a new appreciation for this band and added them to my playlist as soon as I got home that night.
Fantastic!
Finally The (real) Bronx hit the stage sans mariachi and matched Cancer Bats in pure awesome madness. No matter what they are playing these guys really put on the best performance, especially the singer.
This was no typical Monday concert, that's for sure.
"Fuck Mondays, I'm gonna shred the shit out of it" ... (direct quote from the guitarist I think?)... and shred he did.
Holy fuck man.
There was crowd surfing, circle pits, randoms jumping on stage, and the singer from Fucked Up even appeared to help belt out one song with them... and the show was just pure insanity from then on.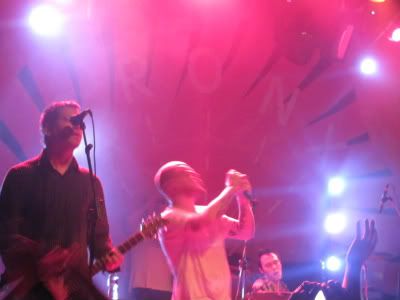 I got a bit drunk by this point and with the tallest man on earth standing directly in front of me (of course) I kind of gave up on writing shit down just so I could focus on hearing the show.
Hear this: BEST FUCKING SHOW EVER.
Okay okay, I really do say that every time I'm at a great show, but it's TRUE 99% of the time.
The fact that I am still reeling from it almost a week later should be some proof of that.
(click on the photos to see the entire album)
I'm Sarah. I do what I want. (and what I want is to go back to bed...)