Good Old Time!
I love Tuesdays!
New Release day... just as good as Christmas and it comes ONCE A WEEK!
Uhhh, that's right Christmas, kiss my pretty pink puss.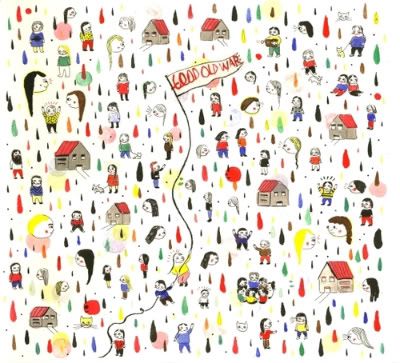 This week the favoured gift in my stocking was/is (what day is it?) the self titled release from Good Old War... an indie/kinda country/rock band comprised of members from Days Away and Unlikely Cowboy (who I have now fallen for as well). The album is currently streaming on their
myspace
and if you're looking for some chill, yet still perplex music to daydream to then you better go take a listen.
Christmas was far from my mind when I hit play and the only thing I saw when I focused on the music was pretty flowers and the summer sun. I'd go as far as saying I even felt a cool breeze at one point too.
Something throughout the album reminded me of The Beatles on more than one occasion and at times featured the character of Modest Mouse ("Old"). Although indie it wasn't presumptuous or stuck up (the way I see most of that artsy shit) and some songs would even break into a danceworthy, footstompin' (okay maybe just toe tappin') country'er conclusion that made me think: 'where's all the cotton, cause this is a pickin' frenzy'!
I'm Sarah. I do what I want.