Hot damn this weekend fucking rocked it!
Honestly, SUCH good shows.
I can't even go into it.
If you weren't there at least one night you don't even deserve to know how epic it was.
A few things:
Ben Weasel, I love you .... but you're getting a wee bit hypocritical in your old age!
Talking all this 'fuck that bull shit talk before songs' talk, and then going into a big rant before playing "Cool Kids" during the encore... key word ENCORE too there, btw. Meh. I still love you.
The set up times were getting to be a little too irritating though, I get that you have a schedule but does that REALLY mean we have to wait for an entire HALF HOUR or MORE before the PUNK BAND takes the stage?
Hmmmm.
So punk rock of you to stick so closely to schedule, and make us wait.
Screeching Weasel, man... that made my life seeing them though. So tight, so fast, so clean, so GOOD.
What I don't get was why the air in the venue that night was so negative, fights breaking out all around us.
Much different than the next night at The Riverdales!
Maybe it's that one member difference, maybe he's the thug at fault for all the fighting... or maybe people just can't handle their punk rock liquor... come on now, we're not in LA like a bunch of years ago dummy's.
I do have to note how wicked the Varsity Weirdos were. Like The Falcon meets Teenage Bottle Rocket. I can't stop listening to them since...
...And obviously The Roman Line rocked. The sound was a bit off up close I do have to say, but I was relieved to hear that upon moving further back (aka heading to the bar) they sounded back to normal --awesome-- despite the switch from Sneaky Dee's into big venue territory!
That's it. For all you assholes absent either night, enjoy the next fifteen years of DEPRIVATION, jerks! <3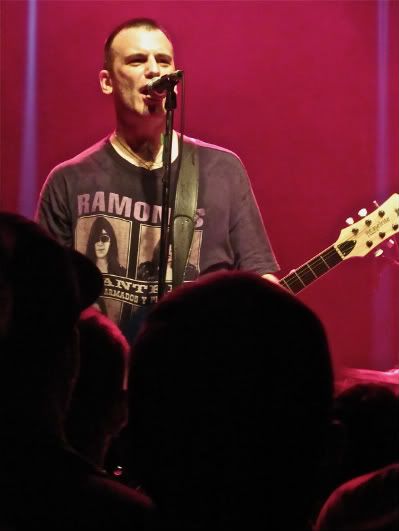 CLICK FOR MORE PHOTOS
I'm Sarah. I'm super cranky.