...is an album full of old motown tunes done by one of my favourite pop punk groups
A Loss For Words
.
That's right, Motown... done Pop Punk.
And these are just two of my favourite things...
Just listening to the first track, which happens to be Jackson 5's "I Want You Back" I've already crapped my pants twice and made one hell of a mess in my underwear.
(thank goodness I put some on today)
I can't help but smile at the dirty, heavy guitars ripping my favourite old motown hits, and the album gets progressively better with "My Girl" next and "What's Goin' On" third featuring killer background vocals and harmonies to perfect Marvin Gaye's hit in the pop punk realm.
Even songs that I never really loved in their original form like "All Night Long" take on this new sexy spin to them that surpasses anything I've heard on those
...Goes Punk
type albums with the same idea.
My lady boner keeps throbbing throughout the rest of the album up until "You Can't Hurry Love" and "Do You Love Me", where it reaches it's climax at the pure awesomeness of these two songs. Both of them are mega hits in my books in any genre or form, but the way they are done on this album is just pure sexx.
The next track slows it down beautifully and let's me catch my breath from those last two without losing my interest, and as soon as the harmonica kicks in I'm ready to go again, although frozen in amazement at the fact that they even whipped out a harmonica for it. MMMMMMmmmmmmmmmmmmm.
The yelling vocals in this song followed by the clapping chant in the end just makes my heart melt even more for this album, and when the last song hits it proves for a perfect end for such a wicked album. Not a single song spurs any complaint from me, which is abnormal when somebody covers such classic songs...
This album is a solid 10/10 in my books for sure.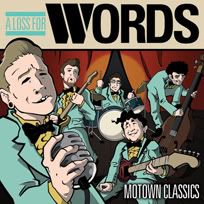 1. I Want You Back
2. My Girl
3. What's Goin' On
4. All Night Long
5. I Just Called to Say I Love You
6. Tears of a Clown
7. You Can't Hurry Love
8. Do You Love Me
9. This Old Heart of Mine
10. Reach Out (I'll Be There)
Check out a stream of the full album here:
http://music.aol.com/new-releases-full-cds/#/8
I'm Sarah. Talk nerdy to me.