What a delightful night!
Thursday was just one of those glorious days, one that included a paycheque, Duff's spicy wings, beer and other sorts of liquor, good friends and two perfectly pretty performances to end the night.
After devouring the BEST wings in the entire city we headed down to a friend of a friend's CD Release show at The Rivoli. We walked in just in time to see
Sara Kamin
performing her sweet and astounding set of beautiful songs about heartache and life, and each one of us was blown away by her amazing voice. It was absolutely gorgeous. Reminding me of Adele throughout the performance, she belted out her words in the most mesmerizing vocals I could ever imagine, and without even touching on a genre that I would normally crush over she managed to gain one huge new fan in me that night.
(Click on image to see more)
WANT TO SEE A VIDEO OF HER PERFORM?
CLICK HERE!!
Next up was the friend of the friend, the man of the hour, the man with the album,
Trevor Campbell
. As soon as he took the stage all the noisy chatter going on near the back throughout the night ceased, and had there been a cricket farm near the venue you would have been able to hear them chirping between each note as Trevor started to play. He started off the night with his song "Constellations", and immediately the similarities between him and Jason Mraz (circa 2002 and before, when he was amazing) were evident, and it was almost like he was reinventing my favourite JM era just for me. With a cello, a violin, and the most angelic female vocals backing him, his words took on a new level of meaning for me and seemingly everyone I was with, and we sat there with our jaws on the floor listening intently. His choice of words, the structure of the songs, the use of instruments... everything was absolutely brilliant, and I can't stop comparing his style of writing to Mr. Mraz because I have never heard anybody with that sort of lyrical skill since the song "0% Interest" came out. I almost started to cry just listening to the strings and his voice, not to mention I almost switched batting teams for the girl singing in the background. Between songs he was just as charasmatic as he was talented, and managed to get the audience involved and swooning over every word he said. On top of delivering each track off of his album, he also covered Damien Rice's "The Blower's Daughter" and I think I actually shed a tear at this point at how fascinating and stunning his version was, sounding almost identical to Damien Rice. He was a beautiful mix of Jason Mraz's lyrical charm and Damien Rice's vocals and use of strings, and I'd even go as far as adding a touch of Glen Hansard in there as well. The entire performance was elegant and alluring, and left me in complete and utter awe.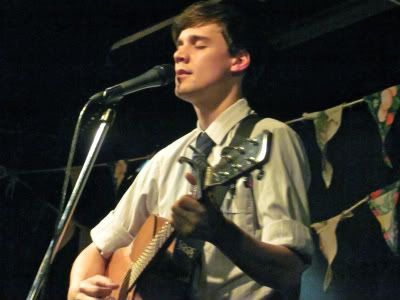 (Click on image to see more)
WANT TO SEE A VIDEO OF HIM PERFORM "BETTER"?
CLICK HERE
I'm Sarah. I do what I want.