I think Life itself hates me! Or at least loves to torment me.
As hard as I tried, as much as I procrastinated, and as heavily as I drank I just could not manage to leave my house late enough to miss the first act at the Avett Brothers concert last night at the Phoenix. It's not that I had anything against Jessica Lea Mayfield, I actually had never even heard of her before… HOWEVER the excitement I felt about getting to see the Avett Brothers FOR THE FIRST TIME EVER was just too much to have to harness for any longer than I had to.
The doors opened at 7:30, I left my house at 8:30 worried that because of my poor timing habits I would actually miss some of my future husband* Scott's, errr what I mean is the Avett Brothers', performance.
*Please note that I will most likely be referring to Scott as my future hubby a lot during this review, and I swear I'm not usually like this except with the Dylan family but I just wanted to stick it in him so bad after last night.*
Anyway, turns out the subway was shut down at Spadina, so my lateness became even later as I fought for a cab outside the station and had to sit through traffic across Bloor Street to get to the show.
Needless to say I didn't get there until after 9pm, and guess fucking what? I STILL managed to see at least 3 songs of Miss Mayfield.
Holy vagina Batman!
I'm not at all sad on making it in time after all that. She was amazing, and after reading this on her myspace I think I've found my future wife as well.
"Right now, I'm going for a cross between a Ricky Skaggs '80s mullet and Carol Brady bangs," says Mayfield. "It truly is the most rebellious hairstyle I can possibly do. People are like, 'Oh mohawks, or indie kids that shave one side of their head with a braid, or lightning bolts.' No! The most rebellious thing you can possibly do is a fucking mullet, and I'm going to make it look good."
She even had the impossible love of my life, Scott, come out and sing with her on stage.
HANDS OFF BITCH!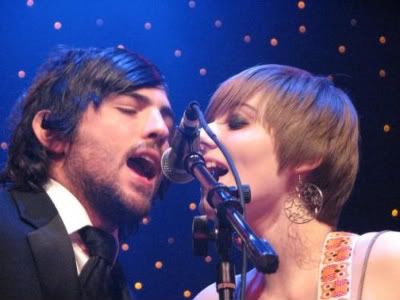 (old picture, sorry I forgot my camera!)
I kid, I kid….
The crowd was so much different than I expected at this show. There were tattoo's all around me, and more young people than old. Many girls in slutty summer dresses and every single one of them on the arm of some jock guy. Seriously, I think I was the only non-couple there. How embarrassing!
I wanted to befriend every single person in the venue and if I didn't get so reclusively stoned out of my mind by the time I showed up I probably would have. I love people who love country. There, I said it. Plaid shirts (which I'd say 70% of the men were sporting) and cowboy boots will always have a special place in my heart, not to mention an extra special place in my vagina.
It's weird, as much Emo crap music as I've listened to in my day, all the Bright Eyes and Brand New and so on, nothing makes me as emotional as country music does. It seriously makes me want to cry constantly, whether out of sadness or happiness or even indifference. Tears must have welled up in my eyes on at least twenty different occasions during the show, including Miss Mayfield's foreign (to me) set. I'm surprised I didn't leave the Phoenix sobbing out of pure joy….come to think of it I probably could have scored a free cab ride home if I had. Dammit!
Anyway, maybe I should stop this incessant rambling and actually talk about the part of the show that matters…. The man of my dreams, and the man who I will forever look for a body double of to call my own… Scott.
KIDDING, I mean the music obviously.
First off, here's the set list for the night. The only disappointment? They didn't play "Walking for You" which is probably my favourite song, but they did play a lot of other gems, including many from I and Love and You.
1. Head Full of Doubt, Road Full of Promise
2. Die, Die, Die
3. I Would Be Sad
4. Kick Drum Heart
5. Shame
6. Tin Man
7. One Line Wonder
8. Denouncing November Blue (Uneasy Writer)
9. Paranoia in B Flat Major
10. Pretty Girl From Cedar Lane
11. When I Drink
12. Yard Sale
13. Where Have All the Average People Gone (Roger Miller cover)
14. Ill With Want
15. Distraction #74
16. And It Spread
17. Laundry Room
18. Slight Figure of Speech
19. I and Love and You
ENCORE:
20. Down With A Glistening Shine
21. Colorshow
My stomach was already in lustful turmoil as the band took the stage and my one and only sat down to tickle the ivories for the first song, his voice billowing from the stage.
Not even half way through "Head Full Of Doubt..." I was already overwhelmed and wished I could sit down and fan myself for a minute, and as my lovely moved from piano to banjo for the next song it proved hard to keep my eyes solely on him as the man with the cello seized my attention and reminded me of the cello version of Mr. Miyagi from the Karate Kid… The Cello Master! As my hubby-to-be strummed away on his banjo and sang about marriage in "I Would Be Sad" I had to hold myself back from pushing my way towards the stage and pledging my love to him. How I could have ever been transformed into groupie-mode for a non Dylan is beyond me, but I now feel like I know the infatuation that Justin Bieber fans feel towards their little Ike-N-Dyke.
Future P in my V's brother then moved to the piano for the next song, another all time favourite of mine "Kick Drum Heart" and as I fought back tears of pure joy Mr. P in my V himself screamed into the mic and convulsed with his banjo, his jerky movements making me want his P just that much further… *cough* and I literally thought my heart would stop as the band beat theirs on in the end of the song.
I have to say, the vocal juggling between brothers and sometimes others was superb and timed to the T, not to mention the juggling of instruments as both brothers moved back and forth between piano and guitar and banjo and even cymbals at times. There was a fantastic upright bass breakdown during "One Line Wonder" and the entire bands ability to sync together was absolutely mind-blowing.
During another favourite, "Paranoia in B Flat Major" I decided that jerky banjo players are my new obsession, fuck the harmonica… no wait, I love both, or either or, regardless it was so much fun to watch the dick-that-has-yet-to-lay-me-but-really-should spastically gesturing to the audience with his left hand during certain lyrics WHILE simultaneously strumming on the banjo with his right. At this point I realized I had this huge shit-eating grin on my face which was very embarrassing since I was all by my lonesome in between many, many couples and MANY MANY BEARDS (seriously, beard overload, and by overload I mean my load was all over.)
I don't know what else to say, except that they continued this way for almost two full hours, and thanked the audience literally after every song. "Laundry Room" and "Slight Figure of Speech" were just as involved and energetic live in real life as you see in the live videos they have on YouTube, and every second was better than I ever imagined. When they returned to the stage for their encore they even told the audience "We would love to play another song for y'all, thank you so much" and then and there I decided that I won't settle for any man who isn't country and as courteous as these rock stars on stage. Not to mention wears plaid shirts, has a beard and is named Scott… okay, okay, so the name is taking this a little too far, whatever.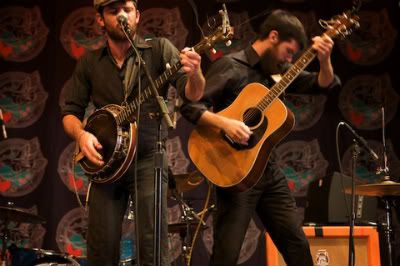 (sorry, once again not a picture from last night...whomp on me)
I'm Sarah. I am officially an Avett groupie. HOW EMBARRASSING!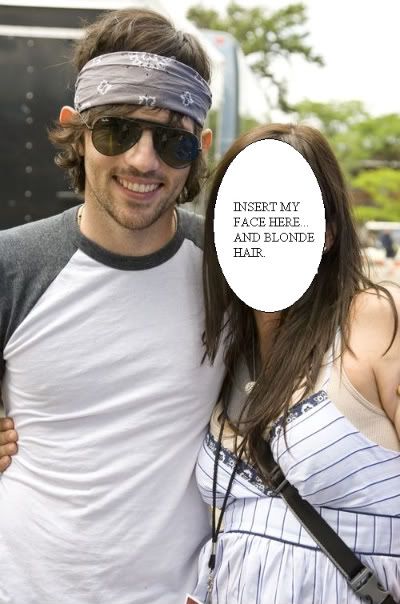 ^^^most embarrassing thing I've ever posted^^^