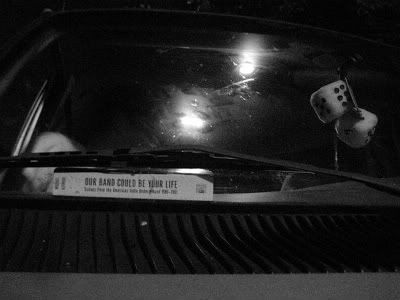 Thank you life for stearing me in the general direction of a band called
The Future Kings of Nowhere
. I am much obliged. I feel as if I should plant a tree or something in return, no?
Another thank you goes to the band themselves, or whoever composed the perfect myspace bio making this the easiest review to write ever as I copy/paste it out of pure lazyness:
"Brimming with wit and energy, The Future Kings of Nowhere play acoustic pop-punk antifolk with an occasional bit of country twang. They call it acousticore. High speed acoustic guitars, double-time drumming, lush harmonies, and a slew of auxiliary instruments create a frantic backdrop for these songs of love, death, and modern-day alienation. They sing with a disarming honesty that draws you in and a beat that keeps you moving. The hooks sink deep and the energy is unforgettable. One listen to their debut CD, released in June on 307 Knox Records, and you will be humming these tunes for weeks.
This is cut off all your hair, bounce around the room music. Don't be surprised if you wake up drunk after their next show, with a new tattoo and a trespassing charge, to find a Future King correcting grammatical errors in the graffiti on the jailhouse walls!" www.myspace.com/thefuturekings
Really, what more can I say?
Other than when I listen to this album it makes me want to slap a bandana across my face, hop on a horse and ride back to the 1850's to rob a bank.
I'm Sarah. I do what I want.