Ugh, so late on this review that I barely even remember the show now (shows how well my memory works from Wednesday until Saturday) but I've been soo freakin' busy this week, SORRY!
I'm probably not going to get into a lot of detail but I'll at least wrap the show up in a nice, flashy wrapping.
Let's set the scene shall we?
It's Wednesday night, it's pouring... enter The Piston, a fairly fresh new bar/venue at Ossington and Bloor in Toronto. The smell of meat fills the air as you walk past the bar in the front and enter the separate, cozy room at the rear with a stage and a sound man. Despite me leaving extremely late, AGAIN, I arrived before the first band I wanted to see took the stage and at this point there was barely anybody else there... The only thing I could think of at this point was that I was a shoe-in for the meat draw that the $5 ticket contributed towards, since the odds were based on the number of people there.
That's right, a bag of pulled pork was up for grabs.
I wish I were a lucky person....
Anyway, I didn't have to wait too long before
Still Life Still
took the stage with their TWO double keyboards taking up a lot of room. It was the first time they'd played with all 4 keys and it went over surprisingly smooth given the lack of moving/grooving space.
Suddenly there was a huge group of people gathered to watch the band, decreasing my meat odds to slim-impossible.
For the second time seeing this band I was doubly impressed this time.
The somewhat trippy, almost psychedelic style of indie rock was interesting and to balance out the sound there was this dark, Conor Oberst thing going on with some of the vocals that helps to incorporate a lot more into the music than just straight indie rock, which I normally don't appreciate too much.
The members each seem like jack-of-all-trade types as the keyboard and guitar were passed around from one member to the next.
The only thing that made me wince a little bit while watching/listening was this crazy, weird background noise coming from the new keyboard (I'm only assuming) that kind of sounded like a whale giving birth during the second song. Luckily it went away after that one and these sort of effects ended up sounding a lot better deeper into the set.
Each member was a treat to watch as they grooved along to each song, and the audience loved it!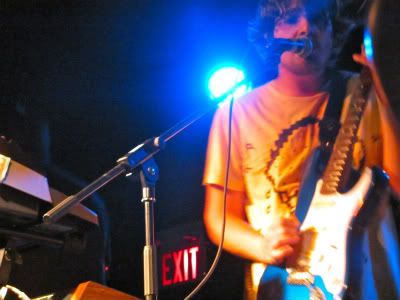 Next up was
The Order Of Good Cheer
to end the night and raffle the meat, which obviously I lost otherwise this review would have been more about how lovely it tasted than anything.
They were a lot more top 40 sounding live than on their myspace, but I still really love them just due to the country vibe they throw out there. The smell of meat must have been losing me though because all my notes refer to is how good it smelled standing at the back beside the meat table.
Oops!
These guys were awesome though, and are playing The Piston ever Wednesday this spring I think.
Check it out on their
myspace
.