It's almost been a full 24 hours since I stood watching
The Little Black Dress
perform at the Drake and somehow I
still
have that "this town this city is out to get me" song stuck in my head.
Wait.. stuck isn't the right word, it implies that I'm trying to remove it but can't.
Scratch that.
The only piss off about playing it in my head over and over is that it makes me want to hear it for realz and of course it's been taken off of the
myspace
to drive all focus towards their new single just released - "Call The Paparazzi".
Balls!
They be trippin', cuz, holdin' out on us n shit.
Looks like I'll be buying their
Strut
EP tonight...
$3.96 well spent. You can barely buy two tall cans with that!
In the meantime the newbie is gaining plays from me tenfold.
My entire head is fuzzy right now and I'm not sure if I'm even awake but I am still clearly picturing myself watching this song live last night and although sadly the background vocals weren't noticeable for most of it, them being my favourite touch, it was still just as gripping as it is when it catches you over your computer speakers. Even this girl's got groove when this song is playing.
I'm trying to grasp at comparisons right now but they are making it difficult for me in my zombielike state, sometimes I hear hints of a resemblance to the few good, fast, (older) Crush Luther songs, and others I hear a non-offensive comparison to fairly old Spill Canvas albums. And every other time I try to relate it to something else I've heard they throw me for a loop and I change my mind again. I'm liking this guessing game, it's probably good exercise for the brain right?
But who knows, I'm literally stupid right now. If I didn't have to move for the rest of the weekend and if our new place had the Internet right away I would definitely not be trying to write this now. D'oh!
It's lucky for them I don't have anything bad to say about their performance, otherwise I'd just be brutal to get it over with.
Mrrrh.
No wonder guys are afraid of me... "I'm hungover and your dick's too small, the sex barely deserved a 3 out of 10, just go"
hahahahaha, kidding. I would never!
Not relevant.
I bet this gets really awkward for the band when they read these reviews where I make comments like that.
Which should be embarrassing for me since I'm actually pretty down with their indie-pop-rock-whatever music and consistently flawless vocals.
But it's not.
Speaking of the vocals I have to say the singer was captivating up on stage, and off when he'd jump into the cult fans to sing to the crowd. He was such a natural frontman.. actually natural is something I would say about each member of the band on stage, and I don't know if it's because of this but I felt like I knew them somehow while I watched, although the names and faces close up don't seem as familiar. There was just this strong comfort level between them and the audience and it really brought a warmth to each song that drew you in like a big bear hug.
Even highly anticipating getting home for our final blow out house party of life I was still absorbed for the entire set and didn't think about what I was missing until I dashed out to grab a cab back to find out.
They were the perfect band to end my 3 day 5 shows and 1 full time job marathon I had going and now that I'm done this shit I'm going straight to bed.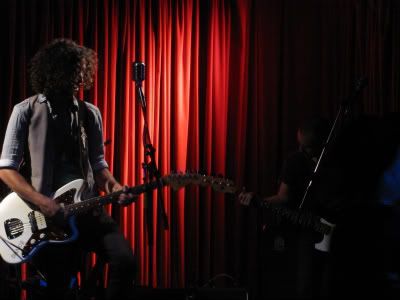 (click above for more pictures)
I'm Sarah. I do..wh....i...zzzzz