Goddammit I'm tired.
I'm up to 5 shows in 2 nights now, and at this point I'm really fucking lazy so I'm totally going to just pussy out with these reviews.
Whatever, fuck you.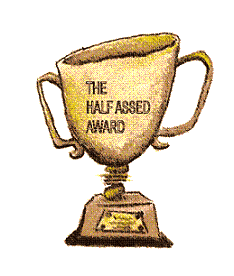 First was
The Doe
's last Toronto show of their Ontario trip at The Gladstone art exhibit of some sort.
They played with a fill in drummer who learned the songs in just 3 days, and aside from a bit of a rocky start he pulled through impressively keeping up making it another great performance from the band here in Toronto.
Next I was off to Rancho Relaxo to see Creekwater Junkies, but first had to sit through a band called
South of Bloor
which was unfortunate.
Here's what people had to say about them.
Rude Jules (think Rude Jude on Jenny Jones, except his name isn't Jude, it's Julian): "They sound like they're trying to be Jimmy Eat World but with artsy chords, like Broken Social Scene."

Mitch: "It was so relaxing that I exfoliated in my undies!"

Alyssa: "They're like Volcanoless in Canada except boring."
There you have it folks!
Finally
Creekwater Junkies
took the stage. Don't be fooled by the name, they are one heavy band. Again I'm just going to quote people/myself from last night because I'm super lazy.
Alyssa: "Zz Top meets Lynard Skynard!"

Me: "Best $5 cover I've ever spent" "I'm infatuated right now!" "Holy Shit!"
They're playing again on August 12th at the Bovine, so do yourself a favour and get out to see them. In the meantime listen to them
HERE
!
On to show number three at the El Mocambo.
I made it just in time to hear the last couple songs from a band from London, ON called
Bad Ideas
, and seriously you guys this band is THE SHIT. I've been listening to them all morning wishing I had gotten there earlier (except happy not to have missed any of Creekwater obv). They have their album streaming on their
myspace
and are playing again on August 20th with Teenage Kicks and Songs From A Room (love) at Sneaky Dee's.
I'm not going to say anything else about them at this point but expect either an album or live review very soon.
Last, but not least,
Gentlemen Husbands
hit the stage to end the free show night at Elmo and it's no wonder these guys are blowing up all across Canada right now. With their punk-inspired-country-inspired-classic rock-inspired-rock-inspired sound they had all the elements of music that makes me wet and their live show is enough to prematurely finish you off when you see it.
Expect an interview from them on this site in the next few days, and check them out on their
myspace
to see what all the fuss is about!
I'm Sarah. I do what I want.