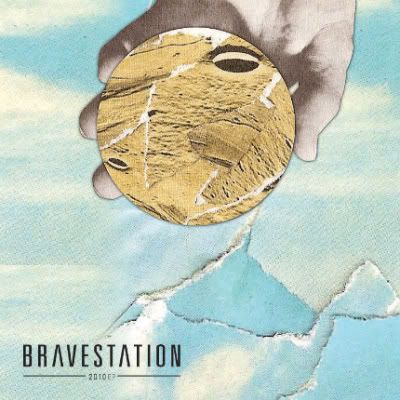 Wow.
I suck.
I missed two really good shows this weekend.
Let's hope I'm not getting sick of seeing shows every other night, for your sake.
Nah, never.
This weekend though was filled with friends from far away and the stress of last minute apartment hunting and just a whole lot of crazy shit so I ended up missing The Roman Line etc. at Sneaky Dee's on Sunday and this band,
Bravestation
, at El Mocambo on Saturday.
It was their new 2010 EP release show, and by listening just over my shitty computer speakers it's already quite obvious that it would have been a thousand times cooler to hear (and see) live.
The borderline psychedelic indie pop new wave what the fuck ever you want to call it is not typically my style but something I would totally dig with the intensity and volume of a live show. Actually, even hearing it now it's quite a refreshing change from my regular music choices and I have to admit that I'm a little smitten.
Thank fucking god it's good too since I had offered to write this because they so kindly put me on guest list for the show and I didn't get to review it after all. Feeling horrible I foolishly offered to make up for it before thinking it through and at LEAST listening to them one more time first to make sure it wasn't shit. I was so nervous when I hit play, how rude would it have been to offer a review only to completely bash them in it? I would have too, because I'm a bitch. Anyway, crisis averted... sidestepped that land mine... Bravestation are not shit.
They are totally out there though and for some reason my mind keeps wandering to visions of really fucked up images like the Alice in Wonderland movie avec Johnny Depp. None of the songs take the direction you expect them to go in, instead they change their 'tune' per say over and over taking things to ballsy new levels.
The singer has such a marvelous, pant-droppingly good voice that each one of the semi-genres involved seem to fit together perfectly underneath it.
Luckily for me (and you) they are back in Toronto on August 31st.
Check out their
myspace
for more details!
What's my mother fucking name Bitch!