I hate to say it, because the Mod Club has always been good to me, but on behalf of
88 Fingers Louie
: Fuck the Mod Club! ***NOTE: IT ACTUALLY WASN'T THE MOD CLUB'S FAULT AT ALL, SO DESPITE THE TITLE, DON'T FUCK THE MOD CLUB!***
The show that they were originally supposed to play there (which absolutely noone had even heard about) was moved to
Parts & Labour
yesterday mere hours before it started and I don't know about you but I am
obscenely
fat, and glad it did.
Having never been there before but hearing all about this new punk rock awesome bar down near Roncy'ville (Toronto) I already had this gut feeling that this place was going to be like a second home to me.
As soon as I walked down those basement steps this hunch became reality.
Instantly I was catapulted back into punk shows of the past.. all those sweaty, dirty, loud, true punk rock experiences that seem lost on Toronto's scene.. the one's that are more than just a house party with bands, but intimate enough that it still feels like you know everybody around you and you're all connected by your love for rubbing up against each other all sweaty and shit while listening to good music.
The rush that you get from these shows is totally different than what you'd feel from the Mod Club or venues like it, although punk music usually brings out camaraderie ---unless you're one of those douchebags like Pete Wentz who form/join hardcore punk "gangs" and think they're making up for their shitty lives and small penis'sss by doing so--- this is taken to a much stronger level when you're all packed into a tiny basement, squished together with a ceiling inches above your heads.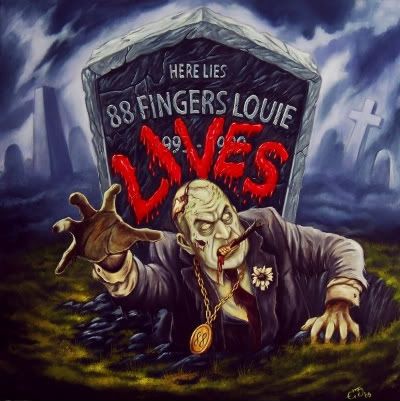 I'm not sure if 88 Fingers Louie felt the same way as they were being rushed by fans on stage... and by stage I mean they were on floor level with either people or walls surrounding them (another amazing thing about shows like this) and members of the pit were constantly propelled into the frontmen throughout the entire set.
Given that, which is probably more than enough reason, the band was not exactly spot on and proceeded to get sloppier as the night progressed and the pit grew.
Even the drummer who I thought (although I couldn't see..) was out of reach of the stumbling fans was having a hot mess of a performance.
The question is, after 10 years of avoiding Toronto, did anybody in the crowd even care that it wasn't perfect?
Fuck no!
Did everybody have a good time anyway?
Hells yes!
The band even admitted to being old buggers who just weren't up for all this intense energy their just-as-old fans were throwing at them.
I'm just happy that I was able to check another ultimate band-seeing experience off my list of accomplishments.
The venue only added to the epic'ness of this show despite how it sounded in the long run and at one point I was so close to throwing my shit in my friends arms and diving into the pit myself just out of love for my surroundings and wanting to be as much of a part of it as possible.
Almost everybody that I saw leave had dirt and shit covering their legs and a huge smile on their face.
Myself included.
*Unfortunately we got there late after seeing Tall Guy Short Guy's CD Release show at Velvet Underground and weren't able to push our way close enough to get pictures. WHOMP WHOMP!*
I'm Sarah. I do what I want.