Winner: The Biggest Bummer Award!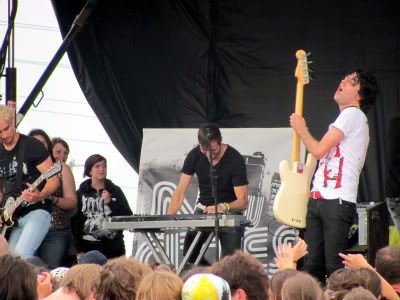 No, not what you're thinking.
I'm dubbing
The New Cities
' performance as the biggest bummer NOT because it was bad, but because it was cut super short and somebody got mildy-majorly hurt during it.
My understanding is that he/she passed out from sheer excitement.
I hope you're okay anyway, whoever you are!
No fault to them, but since the sets were short and not easy to extend they were unable to finish their set and left a lot of disappointed fans.
Unfortunately I missed most of the songs they did play because of other great bands at this time, but what I saw was mad excitement.
Every time I've seen them perform they put on one serious show. The energy skyrockets and you can't stop yourself from getting involved.
I'm Sarah. I do what I want.