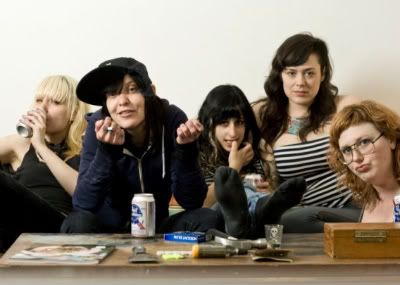 Sorry guys, but a bottle of wine and many beers later I wasn't quite prepared mentally to review the show this past Friday night.
Which I think is fitting, because it was a drunk kind of show. With bands like that you're not supposed to remember anything but your enjoyment the next day… and you're totally supposed to spill beer all over the girl you just met through a friend's feet.
Yup.
Drunk Hussy
was fun but lost me when the lead singer lost his shirt. Usually I like it when people (boys) get naked, especially tattooed boys, but this seemed a little tooooo coordinated and there was talk about it after, almost like faux excuses when none were needed... it screamed "staged" and therefore struck me as pretty lame.
The singer reminded me of a lot of fuchsia hardcore punk singers, like a mix of all the obvious ones like Ian Mackaye etc, and likewise the music was good and the atmosphere surrounding it even better. They were a (drunken) good time and an important discovery in the Toronto music scene.
SPITFIST
is a thousand times better than you'd think by the myspace song, which is a lot poppier than they are live.. live is a whole other story. They kept up with the boys in Drunk Hussy and eventually lapped them with the intensity + hilarity of their performance. Not only was this not a joke, but they actually put on one hell of a show. I really fucking liked it. Riot Grrrl 2010 REPRESENT!
I'm Sarah. I do what I want and remember none of it.