When this guy first emailed me I didn't even have to listen to a damn track before knowing I wanted to write about it…
the way he described it was
"largely ambient, psychedelic, and progressive rock influenced by Pink Floyd, Alan Parsons, The Beatles, The Velvet Underground, The Moody Blues, and Brian Eno. The tracks are sequenced to transport the listener on a trip through ambient, psychedelic, electronic, acoustic, and folk rock soundscapes."
and when I hit play on the first track "Whiskey Burns" I was shocked to realize it was like the best possible song for me to listen to at this moment in time… having just woken up at 3pm from a crazy, shitty night and immediately poured a glass of whiskey/arizona half&half to go with my tea biscuit breakfast.. I am pretty sure I was taking one burning sip when the chorus hit and I felt like Jeff was watching me Corey Hart stylez outside my window.
When he stated the sound dynamics of his music I never doubted I would love it but I didn't expect to connect so emotionally to a style so outside my element.
Hearing this album on vinyl would be epic... the other night we were listening to the
Wish You Were Here
record and it orgasmically charged my ears for hearing this album now.
I find myself getting lost repeatedly while listening, but lost in a good spacey drug trip sort of way.
Hearing this band brings you closer to the feeling that your parents all got when they heard Pink Floyd for the first time or when The Beatles started doing their psychedelic stuff, and they had never heard such music before and it was almost like it was from another planet… well I haven't heard a band of our time perform music of their generation so precisely with the 2010 influence still under the surface, which leads me to believe that Jack Jeffery is probably an alien. Just sayin'!
Listening to the whole album is a process though… not only is it long, but it seems to travel through time and take weeks to finish one song. Luckily it's an album I'd be willing to dedicate weeks to hearing.
Click to buy album!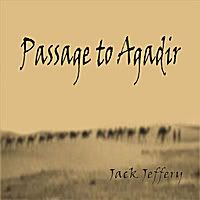 I'm Sarah. I do what I want.