Procrastination is a bitch.
Unfortunately it's also one of my worst habits, one that usually occurs when I need to shower.
I hate showering.
Not the showering part as much as the drying off and "doing my hair" part.
FYI: Even the low maintenance gals need to do their hair sometimes.
And it's so fucking annoying.
I refuse to take longer than 20 minutes to get ready for anything. Any more time wasted on putting a face on or my hair up is precious time that could be spent getting my ass kicked at TMNT: Tournament Fighters... and I need to fucking conquer that game if it's the last thing I do.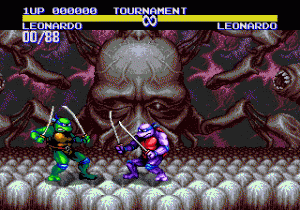 It's bad enough to have to take more time than that to go out somewhere, but I only shower at night and the only place I'm going after is to bed... so having to spend 20+ goddamn minutes trying to tame the wild beast that is my hair is just irritating.
Ergo, in order to motivate myself to get in there and "get 'er done" (as it says on my boobs right now thanks to the Comeback Kid hoodie I'm wearing, ha) I usually create a really random playlist that will get me pumped.
The problem is I have too much fun building The-Shower-Playlist-To-End-All-Shower-Playlists and end up delaying the actual process by another few hours.
Ah, procrastination!
So I decided to share it with you so that at least I feel like I'm being SOMEWHAT productive.
Observe, THE SHOWER PLAYLIST OF ALL SHOWER PLAYLISTS (thus far)
1.
The Vandals - Be A Good Robot
(easily the best song ever made)
2.
Regina Spektor - On The Radio
3.
Basement Jaxx - Good Luck
4.
Mumford & Sons - Little Lion Man
5.
Spoon - They Never Got You
(I will NEVER get sick of this song. I've tried, it's impossible.)
6.
Gorillaz - Ghost Train
7.
Summer People - Two Hearted River
(love this band.)
8.
The Zolas - You Better Watch Out
9.
Pour Habit - Zion
(might as well just fuck me now is what this song is sayin')
10.
Outkast - BOB
11.
Jackson 5 - The Love You Save
12.
Men, Women & Children - Dance In My Blood
13.
Ghostface Killah, Nate Dogg & Mark Ronson - Ooh Wee
14.
Rhymefest, A. Hamilton & Mark Ronson - Bout To Get Ugly
15.
Cut Copy - Hearts On Fire
(I like showers to involve dance parties...)
16.
David Bowie - Modern Love
(classic)
17.
Dillinger Four - AMERICASPREMIEREFAITHBASEDINI
18.
The Falcon - Unicorn Odyssey
19.
Flobots - Combat
20.
The Game & Eminem - We Ain't
BONUS: Keller Williams - Blatant Ripoff (just an instrumental but it makes me happy!)
I literally had to stop myself there because that's already ten times longer than my shower will last.
I'm Sarah. I am going to shower...... now.
**EDIT: I didn't shower end up showering. **