FUCK YEAH THE NUMMIES!
:D :D :D :D :D :D :D :D :D :D
Okay, first things first though.
I got to this show super late because we were doing an interview with Slim Cessna at Mitzi's Sister (stay tuned for it!) and only saw 2 1/2 songs by
Acid Overdose
, a cliche sounding Toronto oldschool punk band. And can I just say that as soon as I saw the bassist sporting a huge ass bandana around his face on stage I thought I had been propelled back in time to the recent Halloween show where The Johnstones dressed up as The Scenestones. I laughed pretty hard when I realized where I was again and that it wasn't a joke. From what I could tell they were fairly tight, but sounded like every other band trying to recreate that epic hardcore punk sound. To be fair I didn't get to see enough to judge that though, but what I did see didn't stand out enough after attending insane amounts of punk shows in the last decade.
What did stand out was how big that goddamn bandana was!
FUCK YEAH THE NUMMIES!!!!!!!!!
:D :D :D :D :D :D :D :D :D :D :D :D :D :D :D :D :D
This show could have been GREAT.
Too bad it wasn't promoted nearly enough, and it ended before 11pm on a Friday night.
And the sound kind of sucked, the vocals almost impossible to pick up when the music picked up speed, which it did, vigorously.
The band was fucking phenomenal though, despite the fact that the small crowd mostly consisted of the other bands and a bunch of Ottawa fans who followed them down to the show or something.
That's dedication, take it as proof of how fucking wicked The Nummies are.
A mess of brilliantly calculated noise on top of seductively uncalculated drum beats.
Old school, hardcore, punk rock in it's most epic shape. Including a mohawk!
With a TSOL cover and Misfits cover thrown into my set the only thing that suffered was my stomach as I couldn't tear myself away to get food.
FUCK YEAH THE NUMMIES!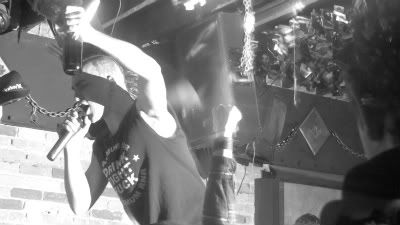 I'm Sarah. I do what I want.