Wow. It's been almost a month since I agreed to write a review of
Adam Bennett
's EP titled
These Machines
.
Usually it's a bad sign when I don't jump on these things right away. It typically means that I have no desire to sit through the album and have absolutely nothing to say about it.
And now that I'm actually forcing myself to listen I can say that is exactly the case.
Here's the thing though, I don't mind it, it's right up my folk/punk alley, but there is absolutely nothing about it that is sticking out to me making me want to hear it for more than 30 seconds.
In order to write with passion you need to feel passionate about the artist you're writing about, and no offence to Mr. Adam Bennett but you haven't sparked any with me, which is really weird because it should based on my tastes.
Picture this: Any one of the Sex Pistols trying to pull off a Folk album. MEH.
I probably only said that because he's British. And has some rebellious angst hidden in his vocal chords.
It's alright, but my easy-to-inspire earboner is left as soft and floppy as ever, kind of like that song "Do your ears hang low, do they wobble to and fro..." yeah.. like that song...
Consensus?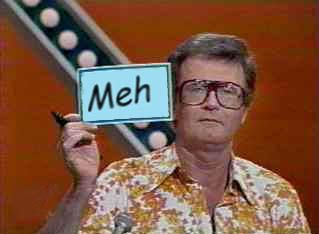 Judge for yourself, boner or no boner? HERE.
I'm Sarah. I do what I want.