First of all I'd just like to cheers the band for their name's acronym: PYT.. and the clear connection to MJ. Represent!
Secondly, I was up seriously late last night and am super tired and since my notes are actually in complete sentences, mostly, and make sense I'm just going to post them! After all, the show was free and I don't really have to talk about shit. HA!
- Nobody out on free Monday night
- This band is bizzaro everyone from Cobourg and beyond that Alyssa (squared), Jill and I know... including a Jesus lookalike.
- This band is better than this show turned out
- Holy guitarists batman. 3 of them!
- Drummer good with one hand and mouth, Heyo!!
- Alyssa 1: Brian Adams meets the Black Crowes ... and something about the Counting Crows?
- Kinda boring, love the songs on myspace though. Jesus is owning the stage with his sick guitar and I kinda am envisioning him alone ripping on it under a spotlight. Only at this show he's not ripping at all and that guitar deserves more ripping .... Of bum holes!!!
- Drummer lost a shirt but has another shirt underneath? Has he ever seen the extra features for Hot Rod? Lose THE shirt, that means every one. Is it because you have lots of chest hair?? If so just let that tussle fly for all to see!!!!
- Lead singer needs more pizzaz says Alyssa 1
- Played "Chicago Road" loved it sounded identical to recording.. this song is my fav and there is ripping guitar in it! Loved hearing it live.
- Still, all in all, pretty boring performance. The most memorable part in my mind was laughing about how Alyssa 1 and Jill wanted to fight these annoying dudes beside us, and how one of them was wearing a striped shirt like mine... there was clearly only room enough for one striped shirt in the venue. MINE.
- Loved the Neil young cover "Rockin' In The Free World", the singer actually did a really great job vocally and they sped it up at the end and managed to badify it. The singer got down an somebody stood on the bass drum... Good way to end the set!
Afterwards though we ended up falling asleep on the sidewalk... and I decided that this picture will sum up what we thought of the performance.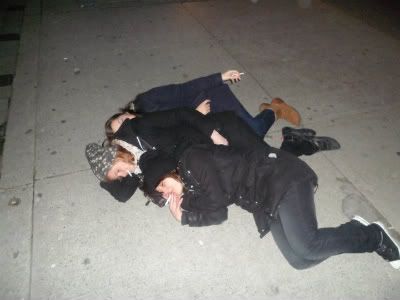 Check out the rest of the reactions/album/band shots!
I'm Sarah. I do what I want.