It's been like 6 long years since
Chixdiggit!
released
Pink Razors
, so first of all IT'S ABOUT FUCKING TIME.
That said, after 13 years of kicking major pop-punk-sprinkled-with-surf derriere they're STILL obsess-worthy good, and just hearing their latest album
Safeways Here We Come
has propelled me into a nonstop Chixdiggit kind of day.
The vocals are as sexy as ever, with typically great backups when needed, and the steady beat of the drum met with the signature grumbling bass in each song makes me smile from my ears right down to my heart. Or vag, but what's the difference. And I can't forget the guitar when it comes a-solo'ing onto the scene just as badass as ever.
They aren't lacking in hilarity either singing songs about having a dog and losing your friends because of it; being hot and horny in Calgary; hating basketball ETC.
My only beef is the short 7 tracks... GIVE US MORE DAMMIT.
They better tour through Canada with this one at least, I mean, considering they're from here they really like to toture us by never coming around.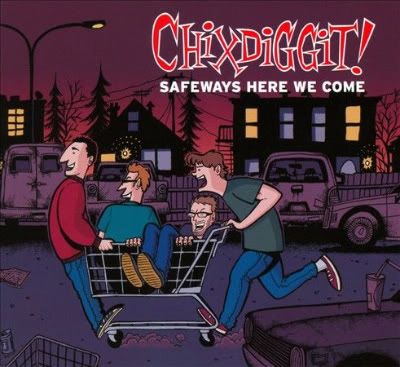 I'm Sarah. I do what I want.