I've got to make this quick because I'm dying my hurr. I've got exactly 25 minutes.
Last night I went to Sneaks for a drum driven grizzly punk show to see Junior Battles, Hostage Calm, O Pioneers!!! and !Attention!.
Wow, so many !'s it would almost make me sick if the bands weren't so... sick. (tick tock tick tock)
I'm not the biggest !Attention! fan but I appreciated the grizzly vocals and the drummer was wicked. The rest of it kind of bores me though, except for the last song they played where they killed it leaving a pleasant sound in my ears and effectively causing me to skip over one negative opinion statement I have from last nights notes.
Next up Hostage Calm, who I have been DYING to see since their album was streaming over at
punknews
. They lacked some grizz to the vox but they made up for it by their love of gay marriage and their 'way too loud' stage volume.
!!!PARTY!!!
!!!!!
!!
They fucking made my night. Aside from the sound issues and crap. I need to see them again like I need to scratch my head right now because FUCK does the dye ever make you itch.
Next was O Pioneers!!! who shocked me with the fact that they have 2 drummers who were impressively tight and impossible not to focus on.
By the end of their set I was about 50X the fan I was just based on their recordings (although for some reason I feel I have seen them before but was way too wasted to remember...)
Grizzly at it's finest. I couldn't BEAR to see them leave the stage.
(God Awful)
I was happy when Junior Battles finally came on though, I missed them last time in Toronto and have been yearning ever since that first night at Sneaks long ago where my love affair first began.
There was no foreplay when they hit the stage, jumping right into "Hotel Bibles" but morphing it into "Africa" by Toto at the end ergo making me mess in my pants with one thrust of a song into their set.
How Embarrassing.
From then on I was drawn into this drunk-and-in-awe-but-still-singing-along-because-I-know-all-the-words frenzy, just gazing from one person to the next and thinking about how they are one of my favourite local punk bands, like, ever, in every aspect. And this was all BEFORE the Simpsons reference. Meeow!
Despite the early climax they managed to top it off with another load of awesome and a new song that kicked more ass than I ever needed it to kick to love it.
Oh, time's up. Peace.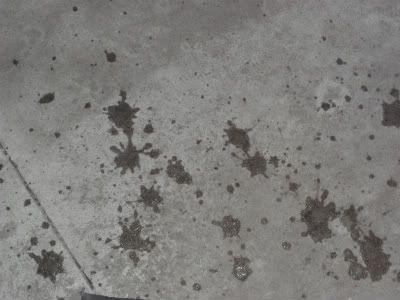 That's my spit outside Sneaks. I thought it looked cool. I spit a lot... Click for more pictures.
I'm Sarah. I do what I want.