Most jaw dropping performance:
Okay, these 'most' statements are getting old already, lets see if I can keep 'er up.
Imaginary Cities were pretty damn worthy of a dropped jaw though. Those who have seen them will know that I'm referring to the vocals when I say that.
WOWZERS.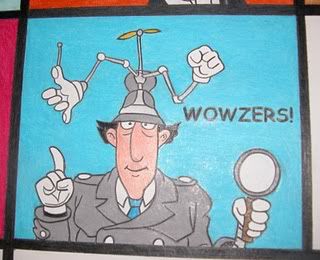 The pretty lady with the big voice blew me a-WAY.
And normally I'm not big on female fronted bands, although she was at times accompanied by one or two male harmonies which all blended together like the smoothest smoothie you've ever smoothed. She kind of sounded like Tegan and/or Sara sometimes, and I do enjoy them lots.
Their songs - indie'ish rock with tambourine, keyboards, and long hair? maybe? - were so well structured that even I picked up on it, and both built up and bowed down to the gorgeous vocal emphasis.
Not only all that good music-wise stuff, they also were completely comfortable and entertaining to watch performance-wise, with great chemistry amongst each other and enjoyable personas.
AND THEY WERE FUNNY!
Subtly funny... as in the guitarist and the bassist at one point approached the very front of the stage and each struck a super rock star pose like they were hammering the fuck out of the instruments when really it was a pretty slow, uneventful part of the song... a part that definitely didn't call for such attention on them. IT MADE MY NIGHT!
Loved it. Loved them!
www.myspace.com/imaginarycitiesmusic
I'm Sarah. I do what I want.