What a fucking wet start to Canadian Music Week or Festival or whatever they're calling it these days.
It would be awesome if it could NOT pour the one week that music fans are forced to hit up more than one venue in order to see all their favourite bands.
I don't actually mind rain whatsoever, I like it more than I dislike it to be honest, but just not this week. It has forced a lot more money out of my pocket for transportation than I have in my ideal CMW budget, and when I ran out of money I just wound up drenched and severely uncomfortable at the remaining shows. Not to mention BROKE. No beer + cold wet everything = no fun for anyone, except maybe Gene Kelly.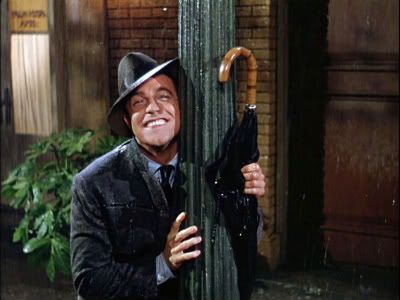 A night of 5 shows turned into a night of only 3.
Another night of 1 show turned into 1 band.
So yeah, fuck you RAIN! And fuck you for raining last year too which I just remembered now. Fuck you twice RAIN!
Luckily I've managed to still see some really great bands the last few days like
The Wilderness of Manitoba
,
Imaginary Cities
,
Zeus
,
Sandman Viper Command
,
Pick a Piper
and
Ryan Warner
.
I have only seen one band that I hated:
MIRACLE FORTRESS
(and I mean REALLY hated them), and one band who I walked away kind of disappointed with:
Winter Gloves
.
What really pisses me off though is that I am more upset over missing bands like
Deer Tick/Middle Brother
,
The Sadies
,
Dave Hause
and
Protest the Hero
because of scheduling/location/sold out than I am excited over the bands I did get to see.
There are just too many venues and not enough hours of the night.
I decided after having this problem last year that I would fuck all the bands I love love love but have already seen (see above, except Dave Hause :(:( ) and just go to shows of bands I've heard and liked but aren't as familiar with.
It's a good strategy if you can handle not seeing mother fucking Dave Hause and Deer Tick, which is almost making me cry just writing about.
Oh well, too late now.
What's weird is that because of this strategy I have actually seen only CANADIAN bands as opposed to those American ones who somehow crept into the festival ???
I thought this was to celebrate CANADIAN talent, and the more I think about it the more it pisses me off for this reason:
I WOULD HAVE BEEN ABLE TO SEE DEER TICK AND DAVE HAUSE IF THEY HAD FUCKING COME TO PLAY TORONTO AT A TIME THAT WASN'T CANADIAN MUSIC WEEK.
ugh.
At least tonight's show at Wrongbar will make up for it slightly.
Check it:
TY SEGALL
www.myspace.com/tysegall
Burying '60s sing-alongs and dance crazes beneath waves of reverb and giddy thud, Ty Segall has carved out his own shelf in the neo-psych garage alongside SF compatriots and collaborators Sic Alps and Thee Oh Sees. As an exploration of the space between Cro-Magnon fuzz and atmospheric acoustic psych, Ty Segall continues to crank out the best new garage rock from San Francisco. Ty Segall is the lead singer of Epsilons, the drummer for Traditional fools, the drummer every once in a while for Party Fowl, and as of February 2009, an occasional guitarist/drummer for Sic Alps.
TEENANGER
www.myspace.com/teenangerrr
HEAVY CREAM
www.myspace.com/heavycreamband
WHITE WIRES
www.myspace.com/theewhitewires
MOCKINGBIRD WISH ME LUCK
www.myspace.com/mockingbirdwishmeluck
FUCK YEAH WE'RE GONNA PARTY TONIGHT!
I can't wait.
Anyway, I'll be posting reviews and a few pictures of each band I've seen individually starting sometime tomorrow hopefully, so check back soon.
I'm Sarah. I do what I want.