AHhhhhhhHhh... the sweet melodic pop punk sound of
Departures
is more than just literally but also figuratively music to my ears after listening to the band I just reviewed below (Fallstar, a God loving hardcore band).
Although the drums on their 5 song EP
Without Fear
are giving me flashbacks to the hardcore drumming I just heard.. only this time it's totally turning me on to hear it with this style and no throbbing dicks trying to 'clear house'.
PHEW!
I'm into it.
Their vocals remind me of some sort of a combination between A New Found Glory and Millencolin I think, only I'm not sure and feel there's another strong similarity to a singer I love(d) and it urks me that I can't figure it out.
Help?
Anyone?
Anyway they remind me of some other band I know I enjoy(ed) and in turn I like them even more. They also manage to stand out based on the vocals and drums so it works for them in both ways.
A+ boyz.
Check them out here.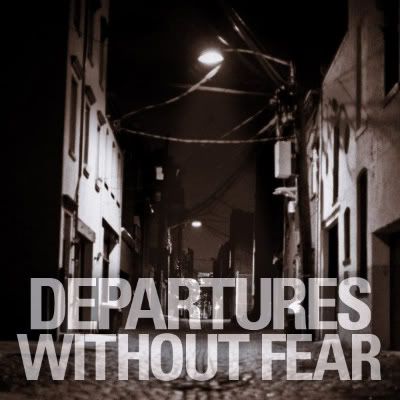 I'm Sarah. I do what I want.