Right now I am attempting a review of the Toronto electro-pop-what-not duo
Lovely Killbots
but their album
Once Smitten
instantly reminds me of Metric and I just want to hate it.
I hate metric
Actually, Metric has a few good songs, I just hate Emily Haines so much... what a stupid dumb cunt.
I'm trying to give these guys more of a chance though.
I used to work with the guy in the band, so it's a little awkward.
I don't know if he knows...
The album has got some decent beats, impressively done by only two bodies for sure, but it's not really striking me as something I want to hear again.
In the song "Matters" I hear a little "Smooth Criminal" action. I'm not sure if it's intentional but I hope so. That's kind of neat if it is, and kind of a rip off if it ain't.
Their album cover is all too much like a Death From Above 1979 album cover, and because of that I am even less impressed with this release.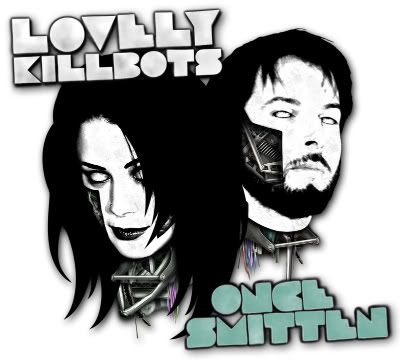 They sometimes sound a lot like a darker version of The Weekend, vocals especially, and I really like that band but don't need another one like it... especially one that sounds more like Emily Haines joining The Weekend for a recording session.
Ew.
Fuck Emily Haines.
I'm Sarah. I do what I want.