First of all call me crazy but I'm pretty sure
Dave Hause
is my long lost brother. Seriously, I am going to do something I never planned on doing on this blog - post a picture of myself splitscreened with Dave. (We're on a first name basis now since we're probably related..)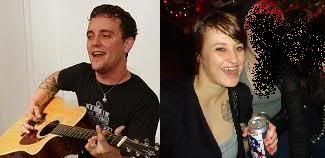 How's that for lookingalike?! Or is it wishful thinking on my part?
Anyhoo, his show at the El Mocambo (downstairs) kicked off my NXNE in the best possible way, and was actually the show I was looking forward to the most. I missed him last time he was in the city and was devastated, and since I've never seen The Loved Ones (my favourite band, or at least one of) I just HAD to catch him this time around. He made my life by playing a few of the bands songs, like "Living Well", and brought Chuck Ragan and friend on stage with harmonica's blazin'. It was phenomenal. Kudos, brother/cousin/uncle/...daddy?
Next up was
Kevin Seconds
who I never thought I'd have a chance to see. Remember 7 Seconds? Because I sure as fuck do. That dude is 50 years old and can still rock the shit out alone on stage with a geetarrr and his still flawless voice. It was EPIC. He even played a 7 Seconds song and told the crowd that the band is still kickin' it... holy fuck! It was pretty funny witnessing such an 'emo' performance compared to what that band can do, but I loved ever second of it.
Last up (at least for me at this particular venue) was
Chuck Ragan
. I didn't get a chance to see Hot Water Music unfortunately so it was really fucking wicked to get to see him do his solo thang, which I actually have listened to more than Hot Water weirdly enough. He began his heart-stopping performance with my bro Dave on stage blowing and sucking on his harmonica before the rest of his string accompaniment joined him. It felt like a dream come true, standing so close to the stage with him in front of me. He has a new album out in September and the song(s?) he played off it sounded a lot like my lover Tim Barry. I can't wait for it.
My NXNE was already made after this epic elmo trip, but luckily the festival had only just begun.
I hopped over to Rancho Relaxo to finish off the night with
Careers in Science
, a band who I have fallen head over heels for since I first reviewed their album and they played my birthday show. They are some kick ass mother fucking punk rock nerds, and they continue to blow me away every encounter I have with them. They rocked Rancho into the early morning and I couldn't have asked for such a perfect end to a perfect NXNE night.
CHECK OUT ALL THE PICTURES FROM NXNE ON MY FACEBOOK PAGE! Just search MusicSheBlogged.
I'm Sarah. I do what I want.