This past Friday
Old Man Markley
Teenage Bottlerocket
NOFX
Kool Haus
Wowzers
What a line up!
I have been looking forward to seeing
Old Man Markley
since the first time I heard them. I was beyond stoked that they were playing this show. Unfortunately by the time I got in I had already missed 2 or 3 songs, FUCK, but the ones I saw were everything I had hoped they'd be and more.
The band is made for the stage, the chemistry between members is totally infectious. I think I love them all like my own family now that I've seen them. Is that creepy?
They played all the songs I hoped, and a Screeching Weasel cover (which at first I was pissed about, but fuck it, they were a great great band, but still Fuck Ben Weasel).
Highlights from their performance include the dude with the washboard being awesome, the female singer(s) with the gorgeous voice(s), the main singer/guitar player dude literally getting down low when focus was directed to other members, and the fact that he introduced them all fully at the end of their set. Oh, and every song they played, and how much the audience loved singing along... that was all awesome too.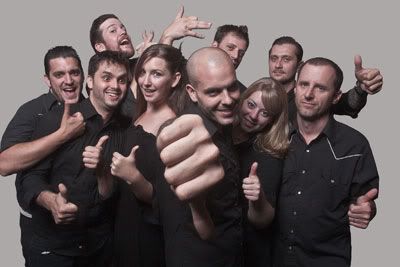 Teenage Bottlerocket
were the best part of the night though, hands down. Despite having seen them a bunch before and despite some technical problems in the beginning. I'd even go as far as saying they were better than NOFX. Seriously. They kept introducing their songs as being the best song, which was fucking hilarious, and played every song I was hoping to scream along to that night. Woooooo!
NOFX
were definitely awesome though, don't get me wrong. But I have never been the BIGGEST NOFX fan, I know a lot of songs and like a lot of songs but never was a hardcore fan. Except for of "The Decline". So I have to admit I got a little bored during their set. I mean, it was really long. And they waited even longer before coming out to do an encore, and when they did I just stood there hoping for the end. Is that bad? I enjoyed it. They were fucking tight, and you could hear the audience singing along to every single song, and everybody was super stoked on it, and they played songs like "Linoleum" and "Bob" and "She's Nubs" and "Herojuana", "It's My Job To Keep Punk Rock Elite", "Pharmacist's Daughter"... and so on. It was definitely an epic show for those epic NOFX fans, so like 99% of the people there.
My favourite part however was when they performed/mimed to the song "Everyone's a Little Bit Racist" at the end of their encore. That was fucking hilarious. And totally racist.
I'm Sarah. I do what I want.