What a weekend! Toronto pretty much rocks sometimes tho eh.
Mark Sultan with Strange Attractor on Friday, Dustin Bentall AND Catl on Saturday.
And lots and lots of w*** and w***. (pssst, one of those is 'wine' and the other is NOT wizz, although there was probably a lot of that too because of the wine.)
First of all, Mark Sultan for $5 at P&L. Talk about dealz, amiright?
He was goddamn awesome, despite the fact that I couldn't see him even on my tippiest of toes, and the place was so packed that if the people on either side of you were dancing - which they were - then you had no choice but to dance too, but without expelling any effort of your own. The only downfall was that I wasn't quite drunk enough compared to most of the people in the crowd, and when you can't see anything happening on stage it's imperative that you drink your way into blind dance mode... especially when the music is that of Mr. Mark Sultan... and unfortunately for me I have been having troubles getting legit drunk lately (DAMN YOU SUPER HIGH TOLERANCE, I'D BE BETTER OFF WITHOUT YOU!) and because my budget didn't allow 5 more shots of jager it just wasn't going to happen for me that night.
Needless to say Sultan killed it regardless, but it was Strange Attractor who played first who actually blew my fucking mind, sinking the battle ship of my brain in one fucking shot. THEY WERE SO SO SO GOOD. Punk rock mofo's. Holy cow, man. My apologies for having nothing more to say about how fucking amazing they were, one of the w*** 's took it's toll on my memory of this performance and I'm left with only bits and pieces of the pure awesomeness that was their set.
On Saturday Dustin Bentall played for FREE at Cameron House. I never thought I'd get a chance to see him let alone for FREE and it pretty much made my life, even if I didn't stay too long because the place filled up like a crack whore's veins when the welfare cheques go out. Oh snap.
Catl played at the Silver Dollar as well on Saturday making it one hell of a twangy night for which I couldn't have been more pleased (that's the Cobourg in me talking!). This is the first time I've seen them since that
epic Halloween show
a couple years ago at the Garrison when I was introduced to them. That was such an amazing experience that I was a little bit nervous that seeing them in normal attire headlining wouldn't live up to the memory I have of them in costume between sets that magical night. BUT they did. They lived up to the memory and ended up impressing me more than ever without any Halloween gimmicks, just straight up bluesy rock n country. I mean, it says a LOT about a band who can entertain the shit out of a crowd with 2/3rds of them sitting. The drummer sitting is a given, but with the front man stationary for most of the performance yet still more exciting to watch than many bands I've seen with their singers constantly moving. The chick on the keys was the most fun to watch though as she slammed her instrument in such an encouraging way that even I was imagining her, myself, and a different kind of slamming going on after the show... me and every guy in the room I'm sure.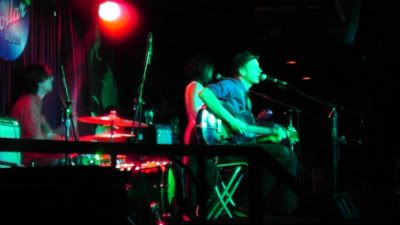 Sorry for the crappy picture quality... totally forgot my camera at home, WHOMP.
PS. Check out this army of misfit toys... totally going to come to life and kill us all. AHH!
I'm Sarah. I do what I want.