I've really taken a fancy to this band
Lower Dens
today. They aren't the most exciting group on the planet, but they are nonetheless entertaining in their lazy vocal'd spacy indie rock 'ness.. at least in the 3 songs on their facebook that I keep repeating over and over this morning. And they do rock out, quietly, but with purpose. The mountains background on their player really sets the perfect scene for listening. I picture the band alone among the grassy plains, the mountain'y backdrop contributing to their desolate rock outs. They sound like they are alone in the world. I feel like I'm alone while I'm listening to them, and it's a cool feeling to have.
Every time I picture being alone in the world I picture breaking into an ice cream store and creating the most magnificent ice cream cone with sprinkles galore.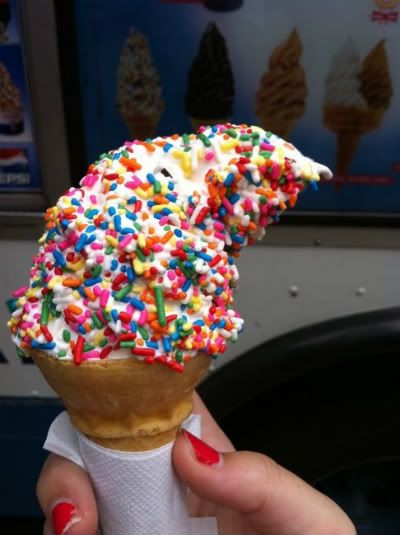 Mmmmm sprinkles.
Check Lower Dens out here!
I'm Sarah. I do what I want.