Holy fuck. Imagine the WORST smelling shit you've ever taken. Like, after a night of beer and whiskey drinking, mixed with a dinner full of beans and twenty big macs, plus asparagus and steak and sausage. Convert smell to sound, and you have
The Kindred
.
|
|
|
v
|
v
|
|
v
|
|
|
v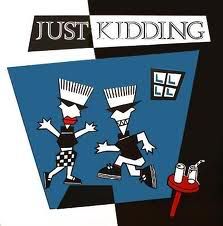 That is 110% UNTRUE.
I was asked to write this review what seems like YEARS ago and kept losing the email, forgetting, not having time, and just being a real dick about it.
The dude has been really cool about it and super patient, so why not be a huge cunt about it and pretend I hate the album.
I'm Funny.
I just wish I saw his face as he read that his band was of the poo stench... after all this time waiting.
muahahahaha.
It's actually the complete opposite.
If The Kindred were a scent they would be the scent of some sort of delicious wood, because of the sexual connotations referring to the boner in my ears from listening, and because for a smell it's pretty damn hard, and they're a pretty legit punk band. Melodic, yet rigorous, with severe breakdowns, drums so fast your ears can barely catch up to them, metal-worthy soloing, vocals that you'd worship in the late 80's/early 90's, a bit of that Pennywise tough-as-fuck flavour, creating a sound fully unscathed by the craptastic era of electro pop poo-nk. Ugh.
I'm so glad they didn't stink up my speakers with that crap now that I've finally gotten around to listening to them.
They'd be the equivalent of how a virgin smells to Jean-Baptiste Grenouille in the book
Perfume
.
In other words, they smell like fresh vaginas and give awkward murderers a hard on for killing.
?????
Anyway I wish I didn't put hearing this band off for so long, I could have been seriously enjoying myself for the last few months had I not.
I guess I'll just have to make up for it now by listening to them over... and over...... and over.........
You should check them out too, and buy the album on
Itunes
(they made me say that! hehe but do it anyway!). It's called
Exacerbate
by the way. And, in case you didn't gather from the above ramblings, I FUCKING LOVE IT.
I'm Sarah. I do what I want.