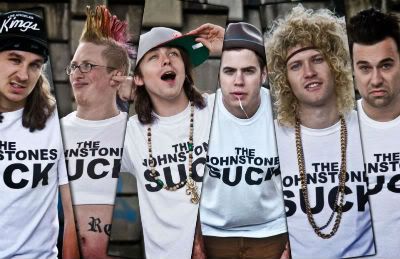 The Johnstones have been part of my life for so long I almost can't remember life without them.
I've seen this band play to a handful of the most dedicated fans during a hardcore snowstorm in Oshawa that somehow didn't cripple their performance, and I've seen them perform at the sold out Opera House, standing near the sound guy with Julian's mom cheering her proud, hot little ass off as loud as she could.
I've probably seen them between like 52 and 77 times, I wish I kept count so I could get a tattoo when I hit 100! ;) You know what? I've NEVER been bored at a show, I've NEVER stepped outside or towards the bar during their performance thinking 'I've seen this already', and I've never passed up an opportunity to see them all over again.
This is a band who rules the world of live performance with costumes, jokes and the natural skill to entertain. Their live performance belongs in a museum, if there were such a museum for the art of live performance. Imagine a bunch of Johnstone robots wearing poo smeared pants or baby costumes or whatever dancing around behind a glass display.
I can always count on enjoying myself when I see these boys perform because of their crazy shticks, but what blows my mind is that I have yet to be disappointed with a Johnstones album even LONG (Ryan Long) after I've packed up my checkered skanking shoes along with all my Aquabats and Busdrivers CDs.
Somehow the awkwardness of knowing the dudes behind the vocals and instruments coming out of my speakers has never hindered my ability to detach myself enough to fall in love with each album for the sake of the music itself. It's actually quite embarrassing how into the
Suck
is no exception.
Not only is it one of the most brilliant album titles, but within seconds of hitting play on "Bad, Bad Dream." I felt like I was back in high school, decked out a Mad Caddies T-shirt, plaid pants and those skankin' shoes I mentioned earlier, dancing politely around other ska-heads and happily thinking that I will love ska until the day I die.
This new album is both the same as other Johnstones albums and yet entirely different sounding than anything they've done before. They have a knack when it comes to changing their style ever so slightly without the listener ever realizing that they've altered themselves in any way, giving the die hard fans more reason to love them and the new fans a reason to go back and listen to everything they've done before. It might have something to do with their impeccable jokes "cock block the cock", or the ever-present comforting horn lines, or just the pure genius ability to write perfectly structured pop songs, but skapunk'd.
Whatever it is, it SUCKS.
Get it? You know, because of the name of the album? You get it, right?
www.facebook.com/THAJOHNSTONES